CHICAGO FANTASY BASEBALL CAMP
HIGHLIGHT SCRAPBOOK FROM CAMP 2008
CAMP 2008 HIGHLIGHTS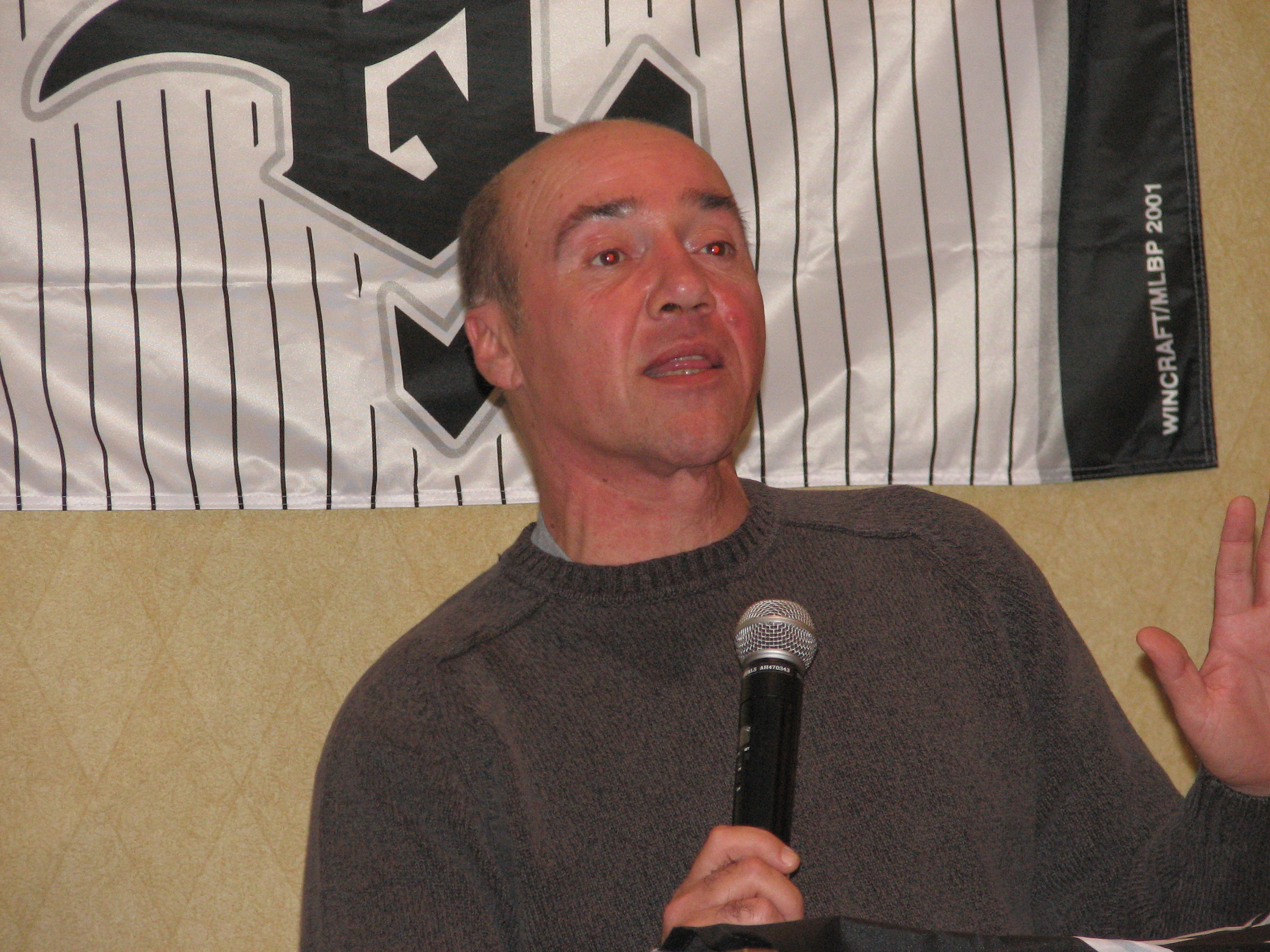 At the Opening Night Banquet, Rookie Pledge Master, Mark Coleman, introduces the rookies to the veterans then selects the "Rookie Choir" who will have to serenade the veterans with their rendition of "Na Na Hey Hey" any where and any time a veteran asks to hear it during the week.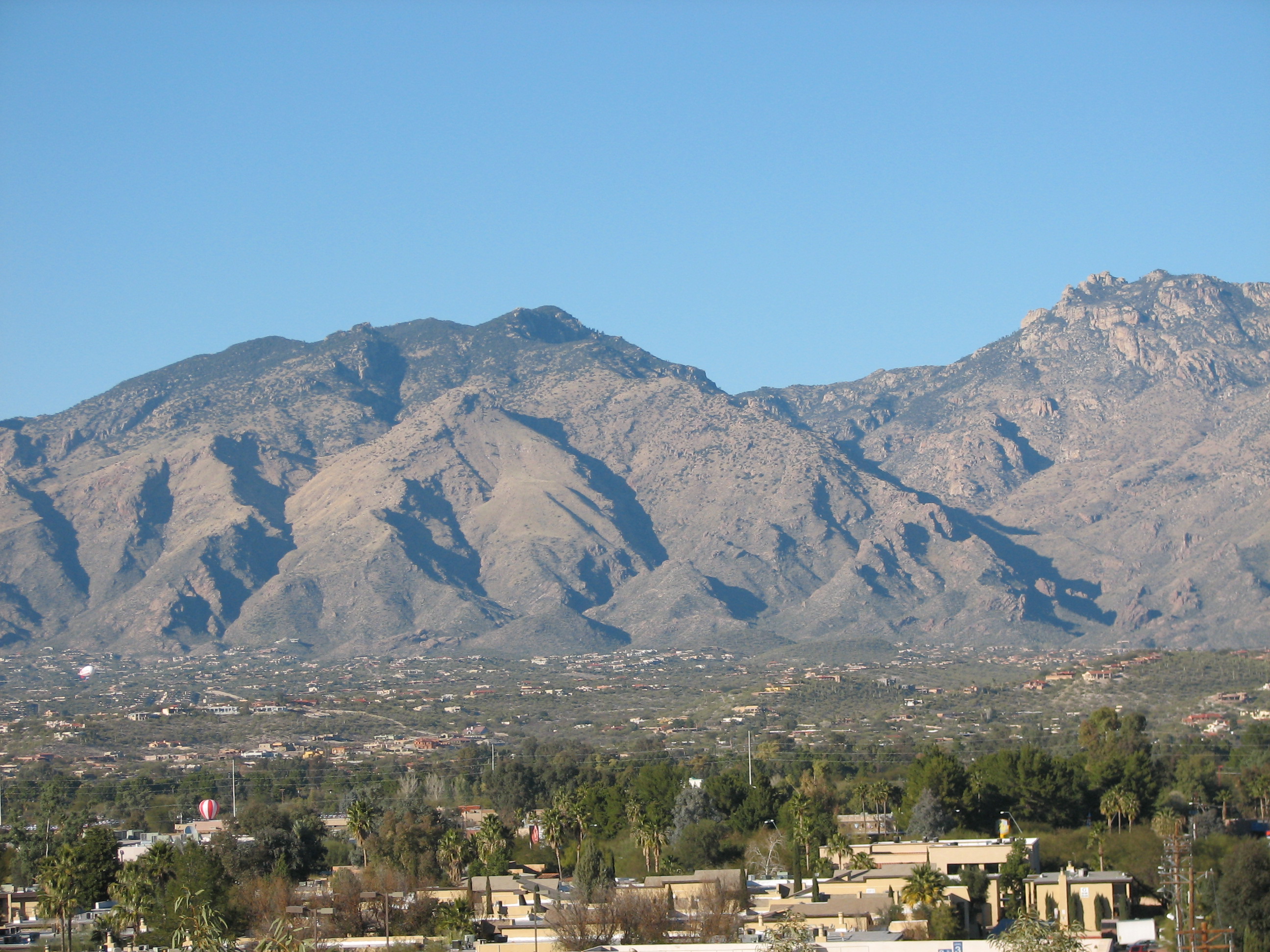 Each member of CFBC enjoyed the spectacular views of the mountains in Tucson from both Tucson Electric Park and the Radisson Suites.
Each morning started off with a review of the prior day's games, as well as stories from the coaches from their days as major leaguers. Often times, Camp 2008 was treated to its own version of a morning show called "Wake Up, White Sox... starring Jeff Cox."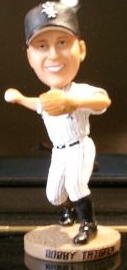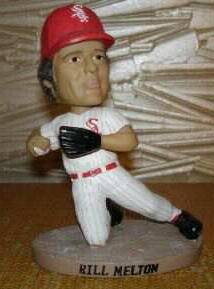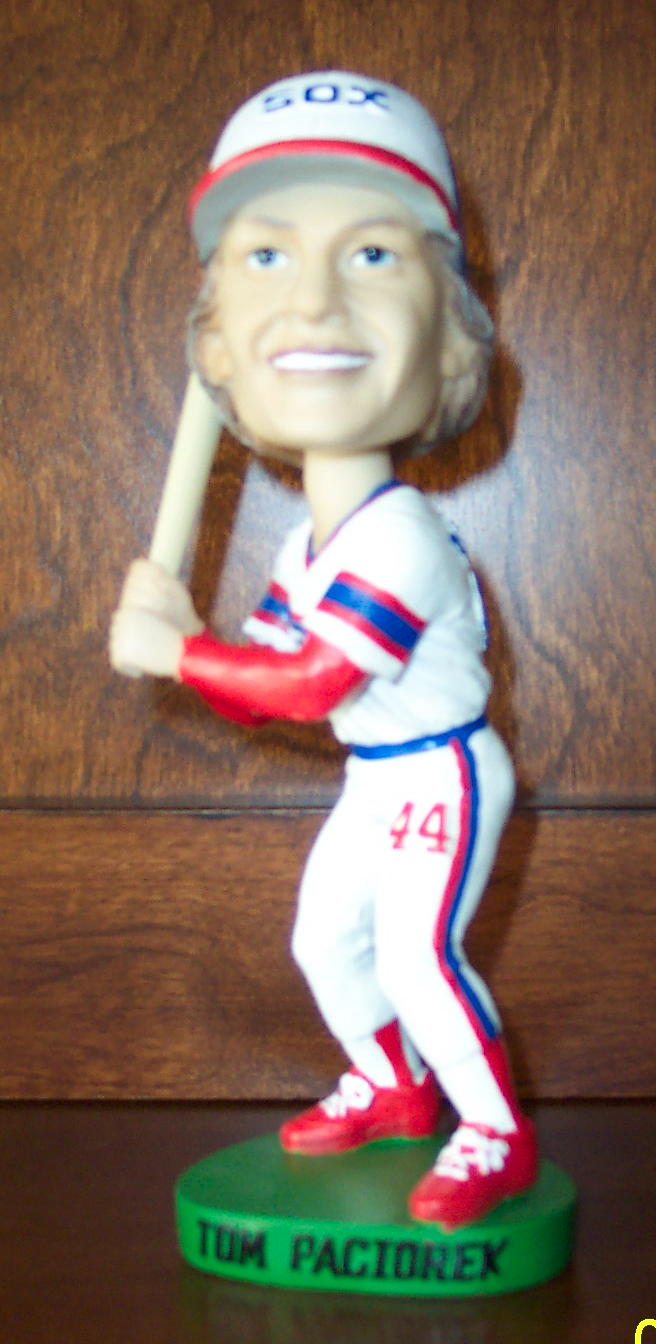 This year, C.F.B.C. paid tribute to Bobby Thigpen, long time C.F.B.C. coach and Major League Baseball's Single Season Saves Record Holder (57), by distributing to campers at the 2008 White Sox Fantasy Camp, the limited special edition bobble head doll that was created exclusively for Chicago Fantasy Baseball Camps, Inc. to accompany previous special edition bobble heads of Art "Cave" Kusnyer (2003), Bill Melton (2004), Tom Paciorek (2005), Carlos May (2006) and Greg Walker (2007).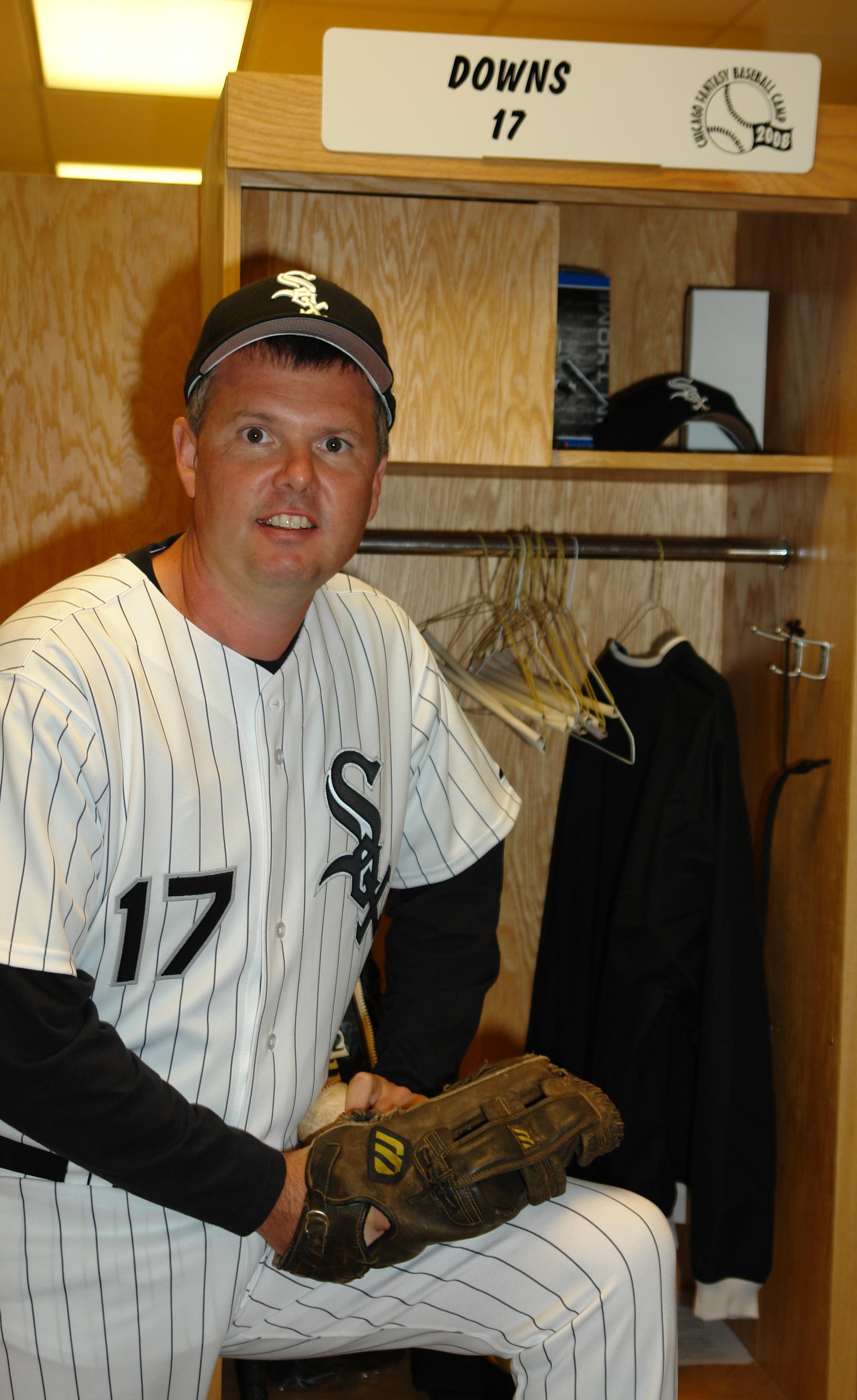 . Rookie Greg Downs is ready for his chance to hit the field for the next CFBC game.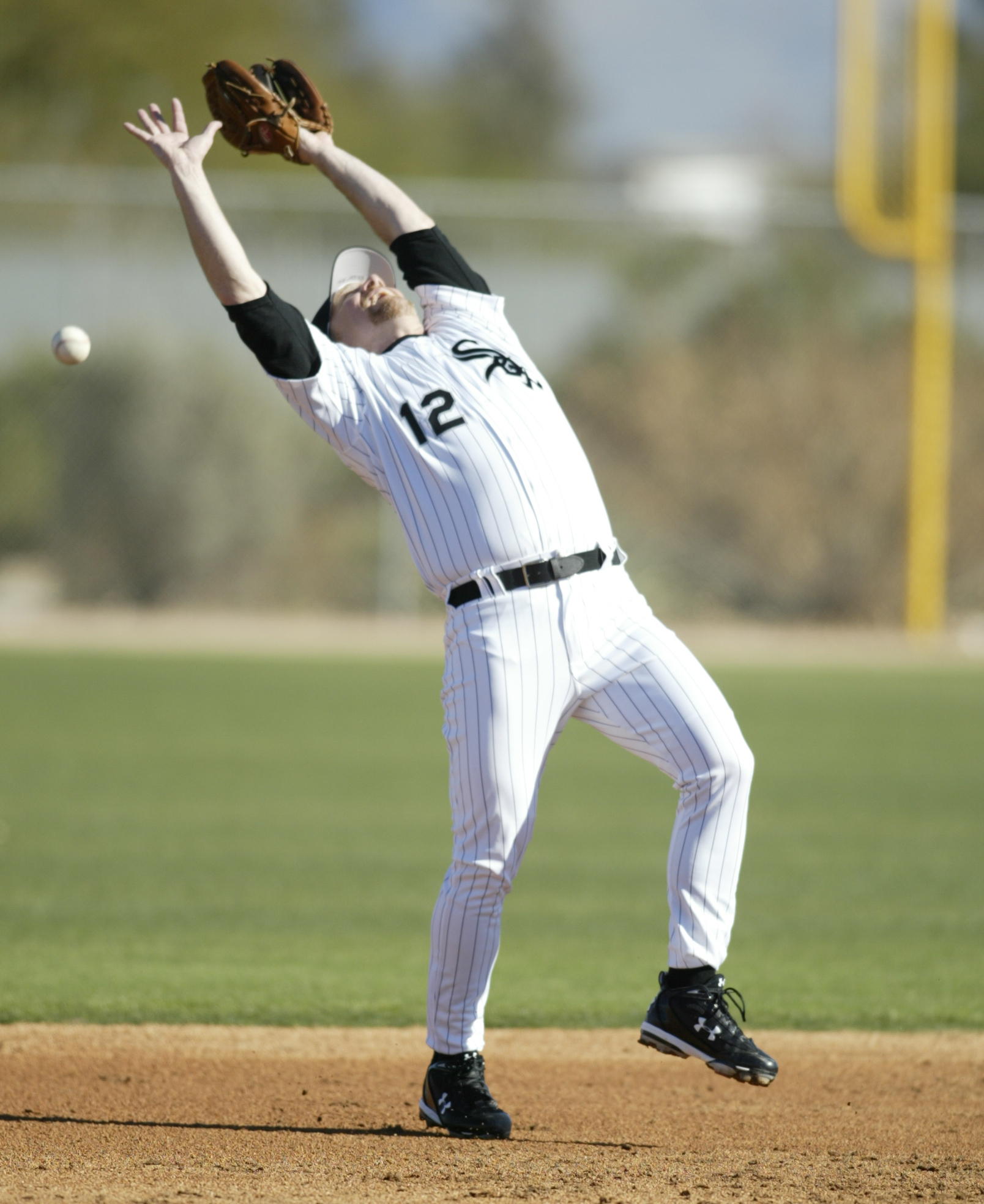 Rookies quickly found out that playing Major League Baseball, not to mention Fantasy Camp Baseball, isn't as easy as it looks!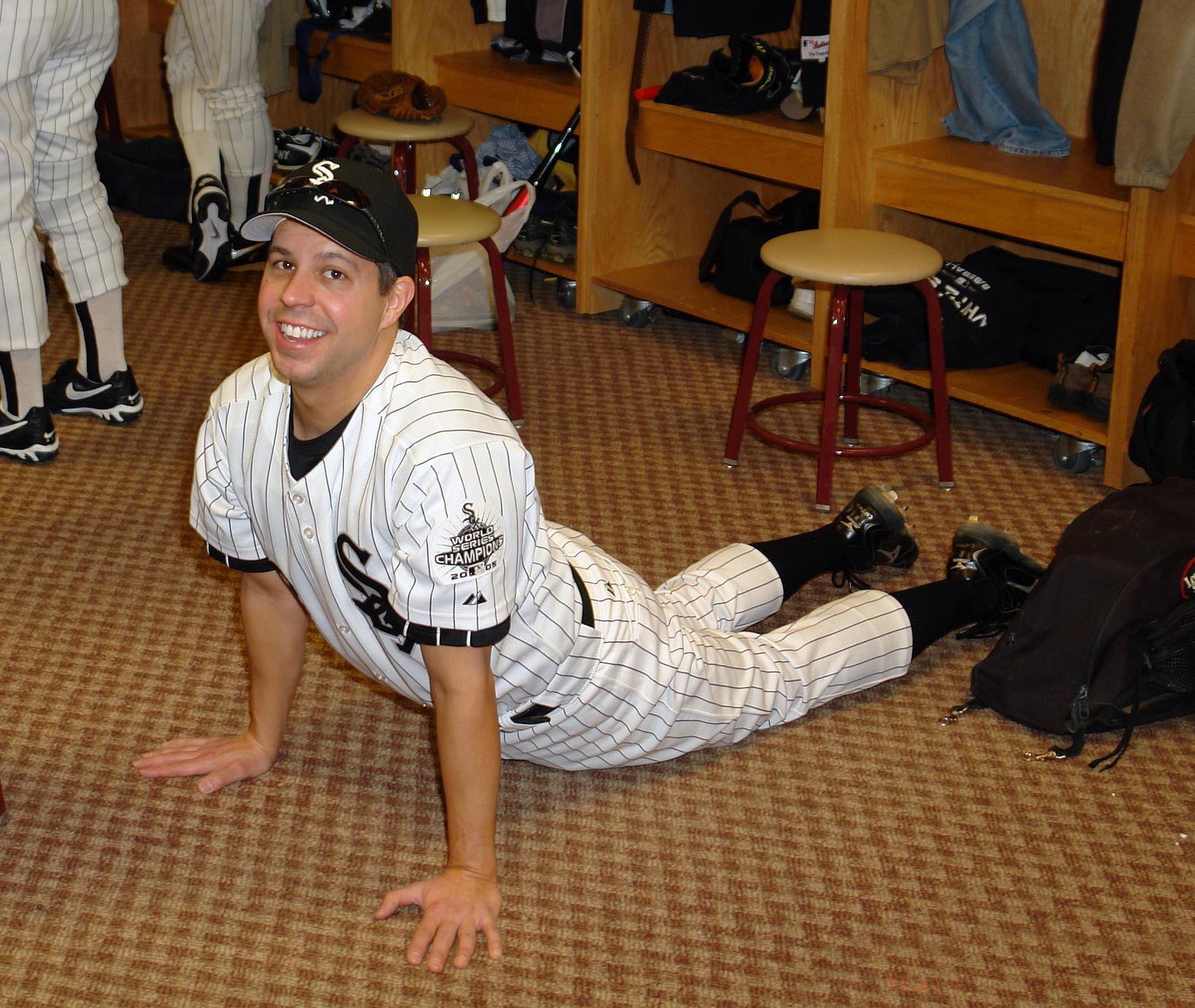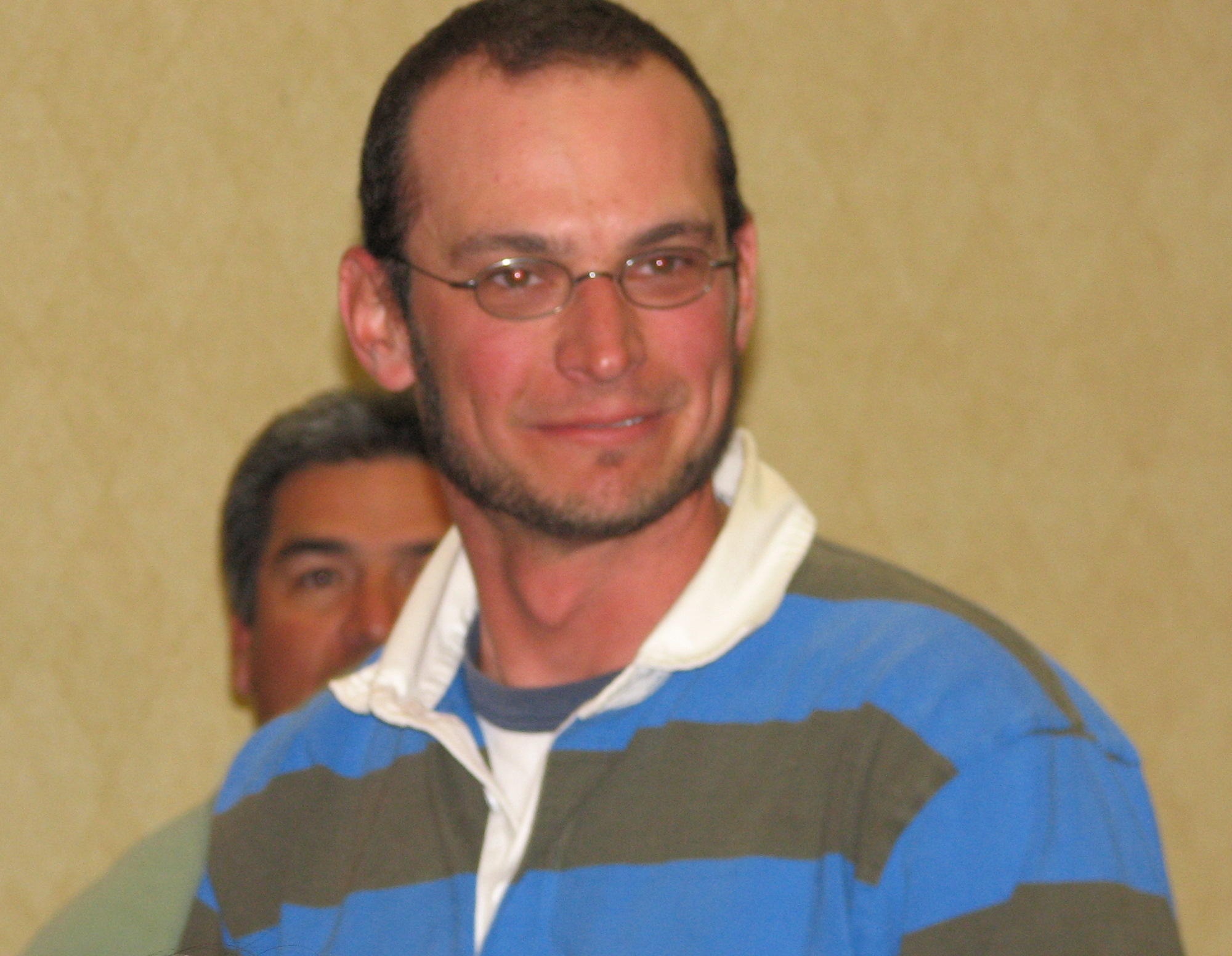 Veteran Mark Chyna loosens up in an unusual, but apparently effective, way before heading out to the field for the next game. Rookie Andrew Klem wonders, now that Camp 2008 has concluded, "Where did I leave that dang horse and buggy?"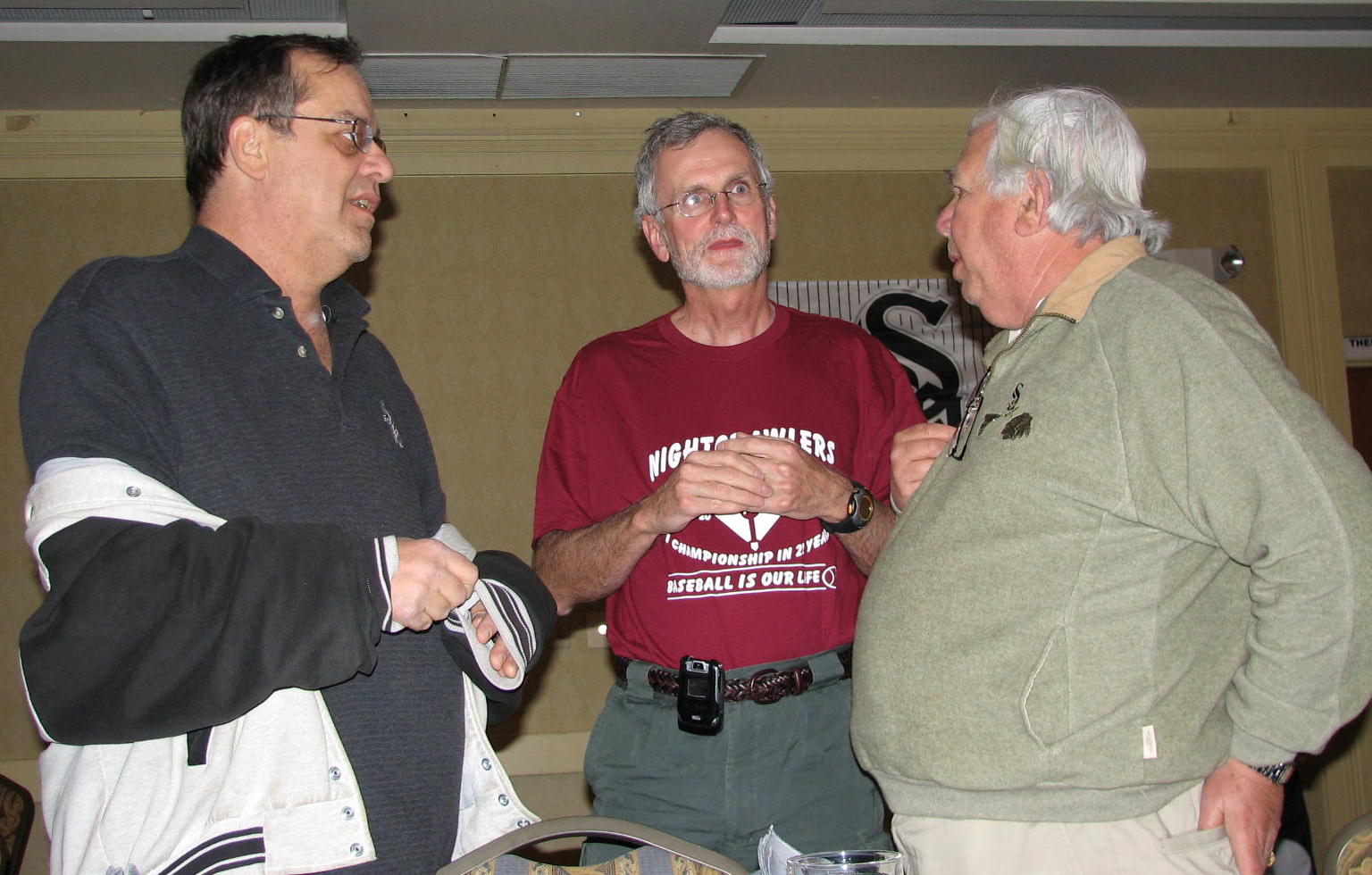 Three of CFBC's directors, Jay Pinsky, Rich Ostendorf, and Aaron Michaelson, discuss the upcoming week's activities at the Opening Banquet of Camp 2008.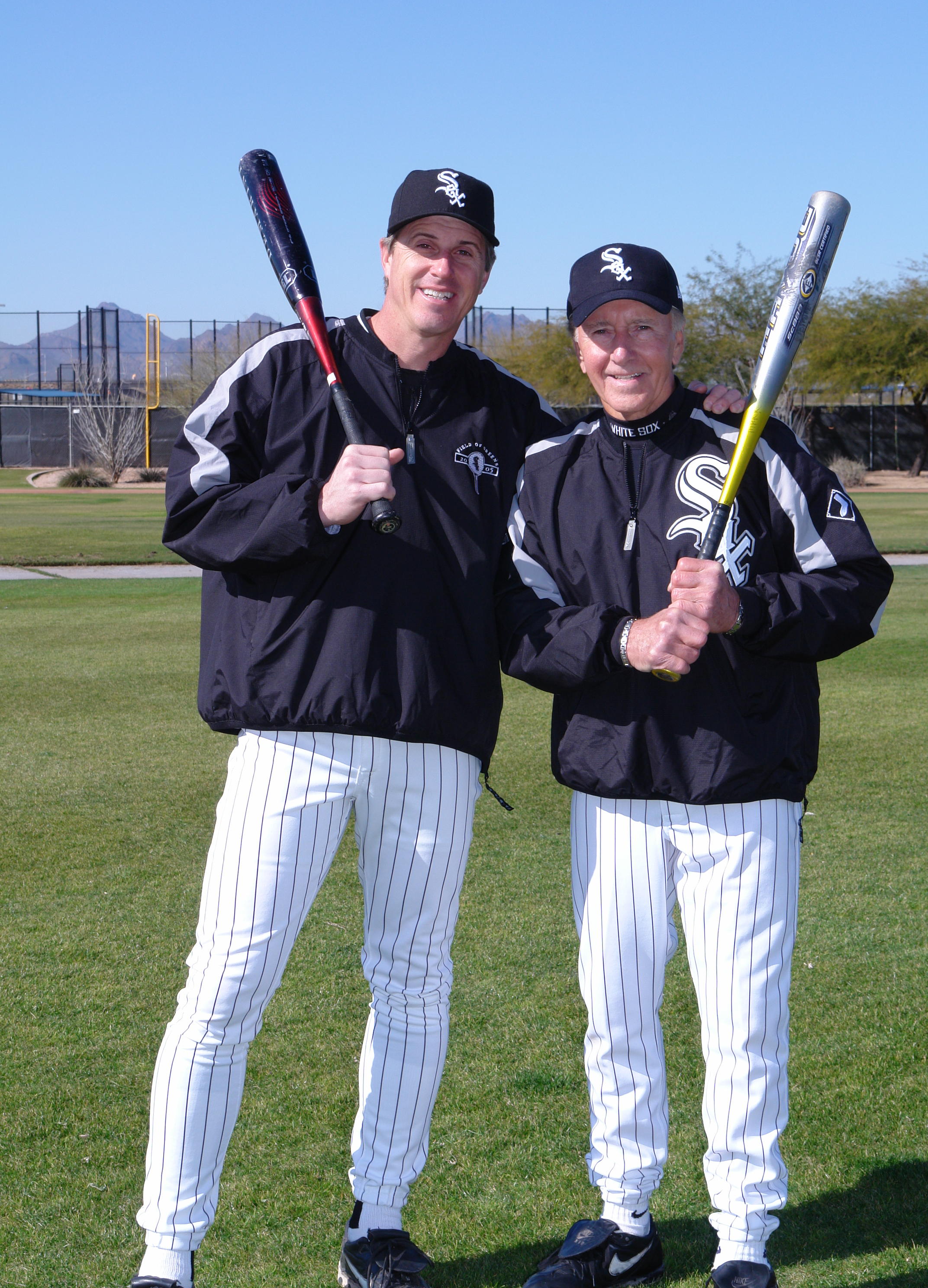 Camp 2008 saw the return of veteran Gene Pall, father of former White Sox pitcher, Donn Pall. Jacob Pankowski shows his blazing speed rounding third and on his way to score another run for his team.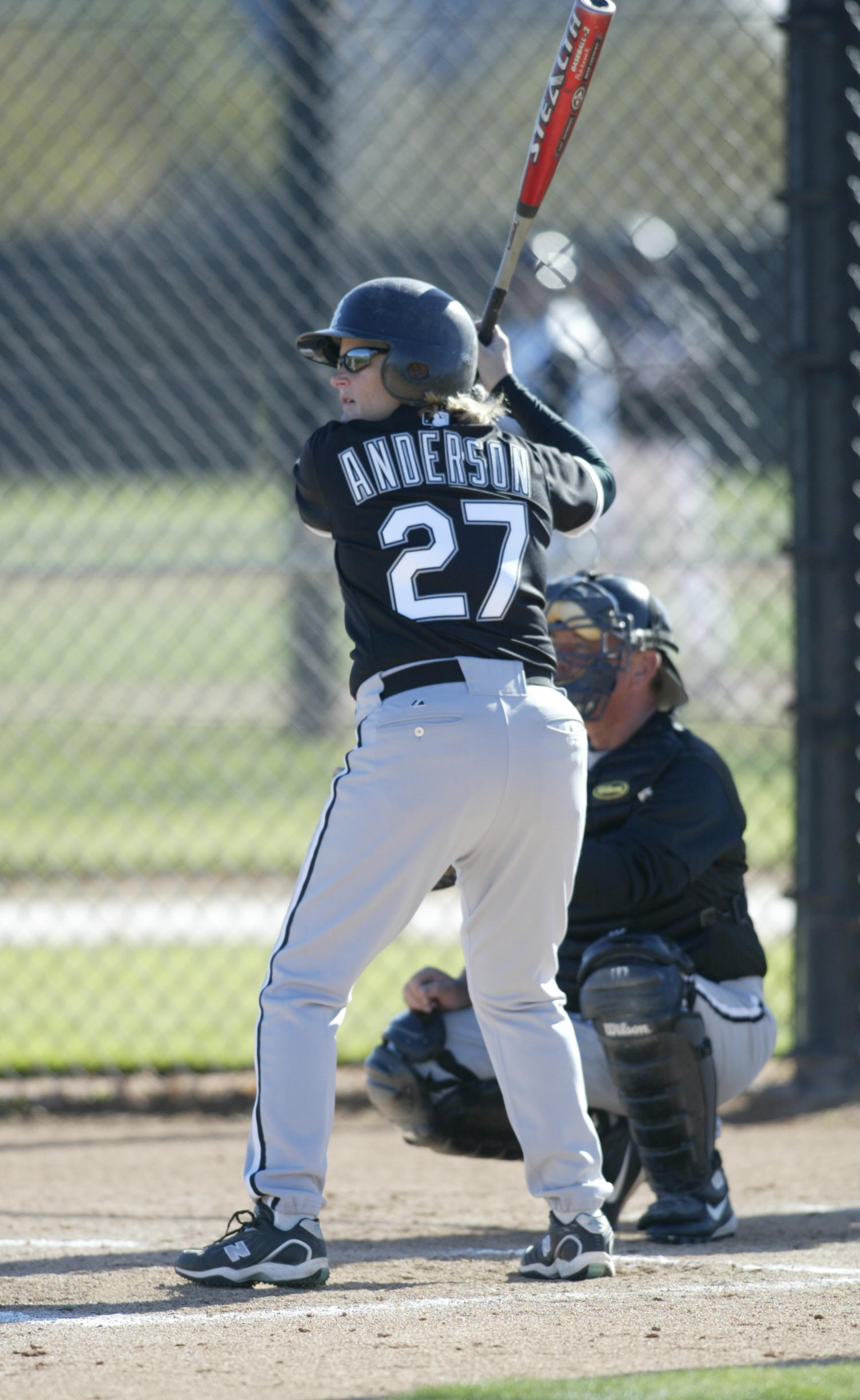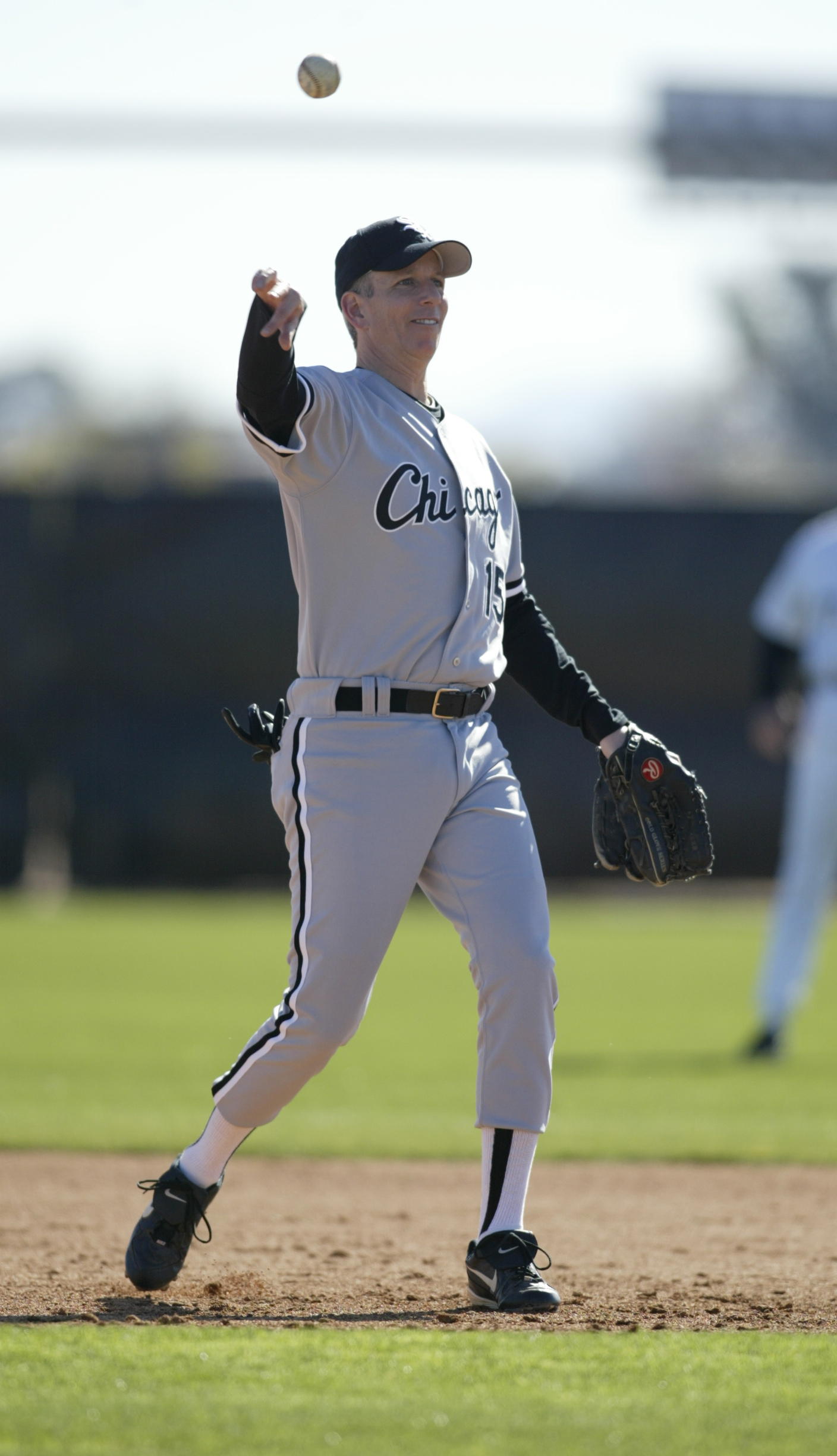 Rookies Jill Anderson and Josh Wexler had an incredible first CFBC camp. Here, Jill focuses in on the incoming pitch, and Josh lets one fly... but where it went, no one knows.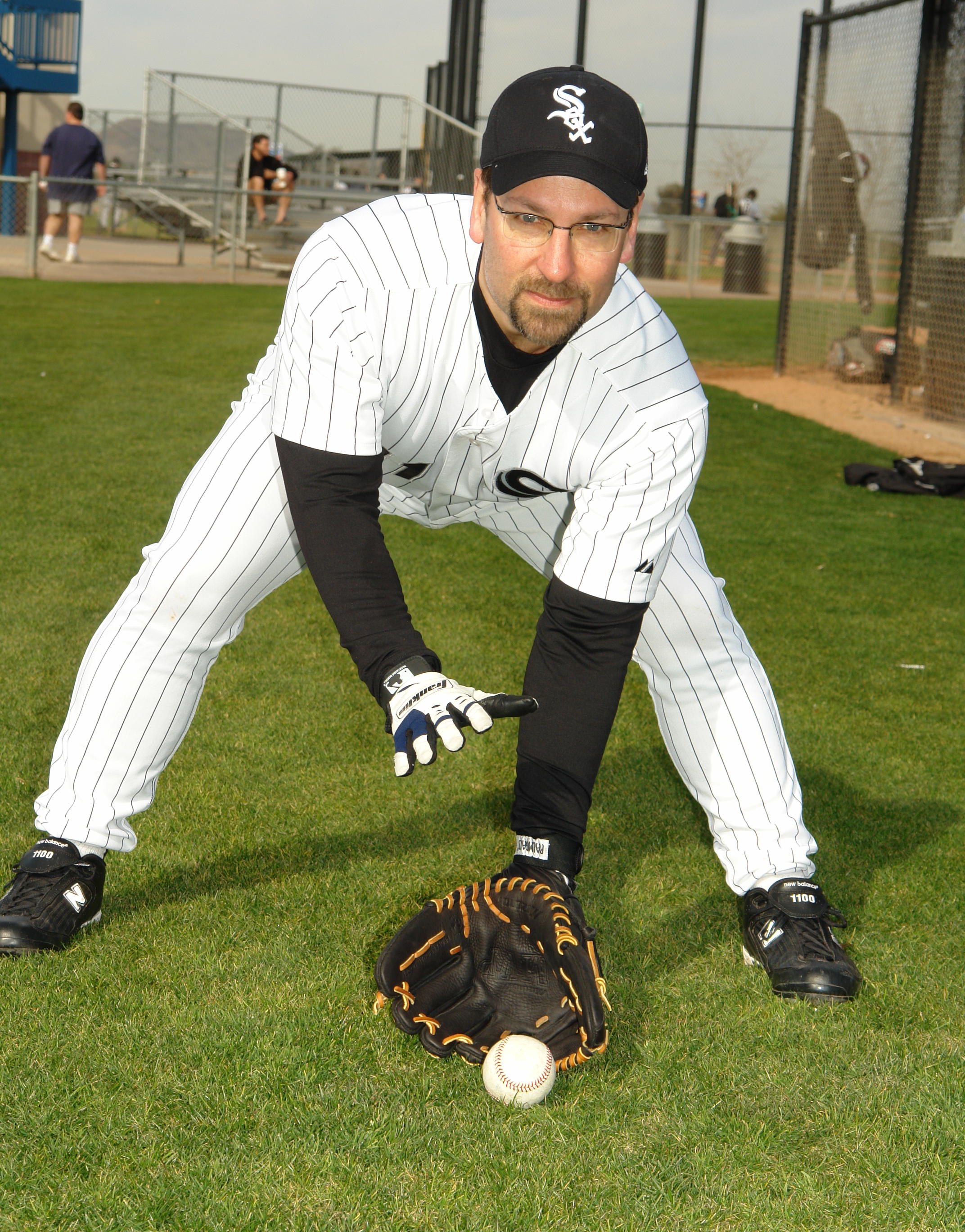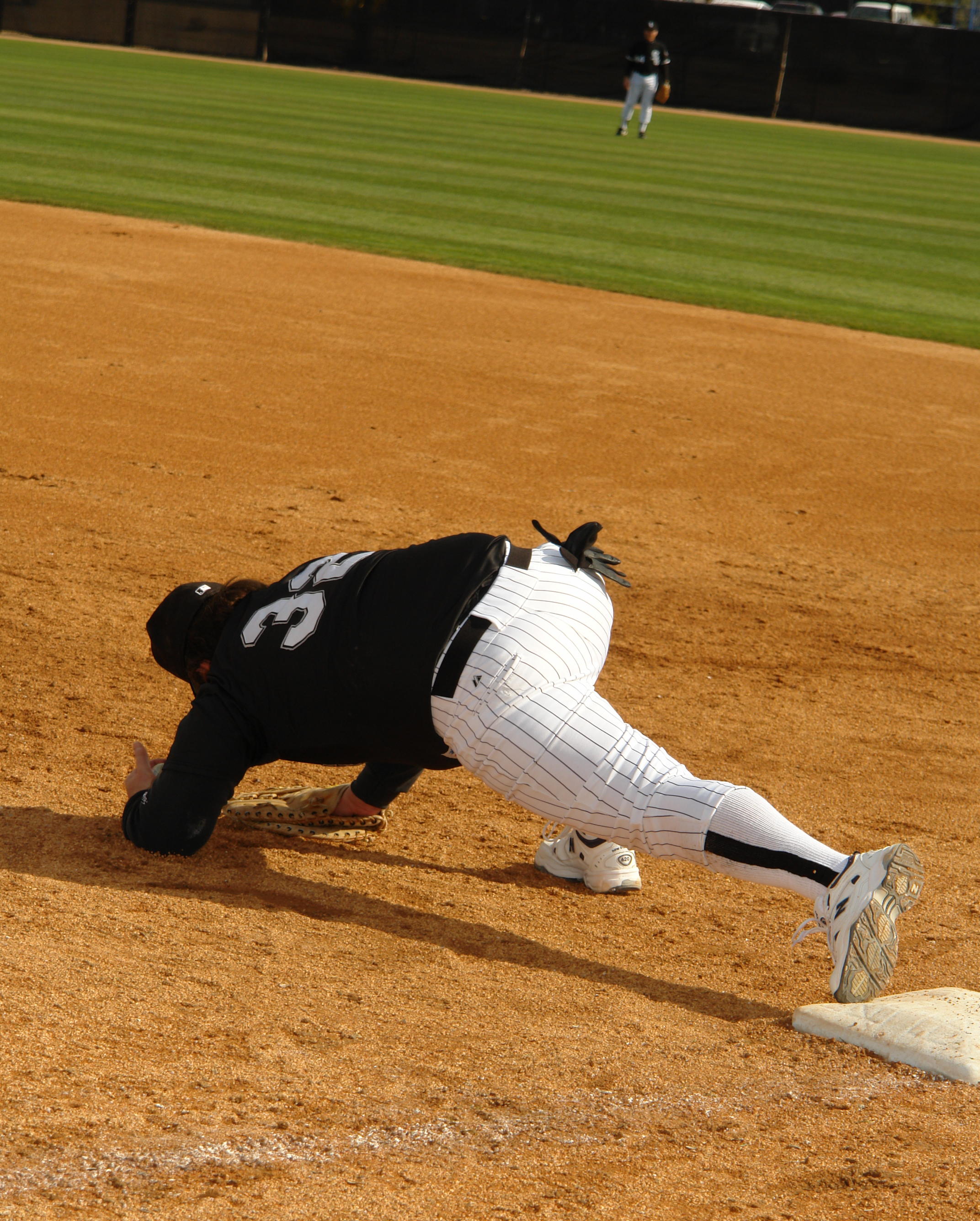 Rookie Marty Shandles poses for his first baseball card and veteran Nightcrawler, Bill Gibbons stretches further than he's stretched in the last 30 years as he makes an unbelievable stab at first base.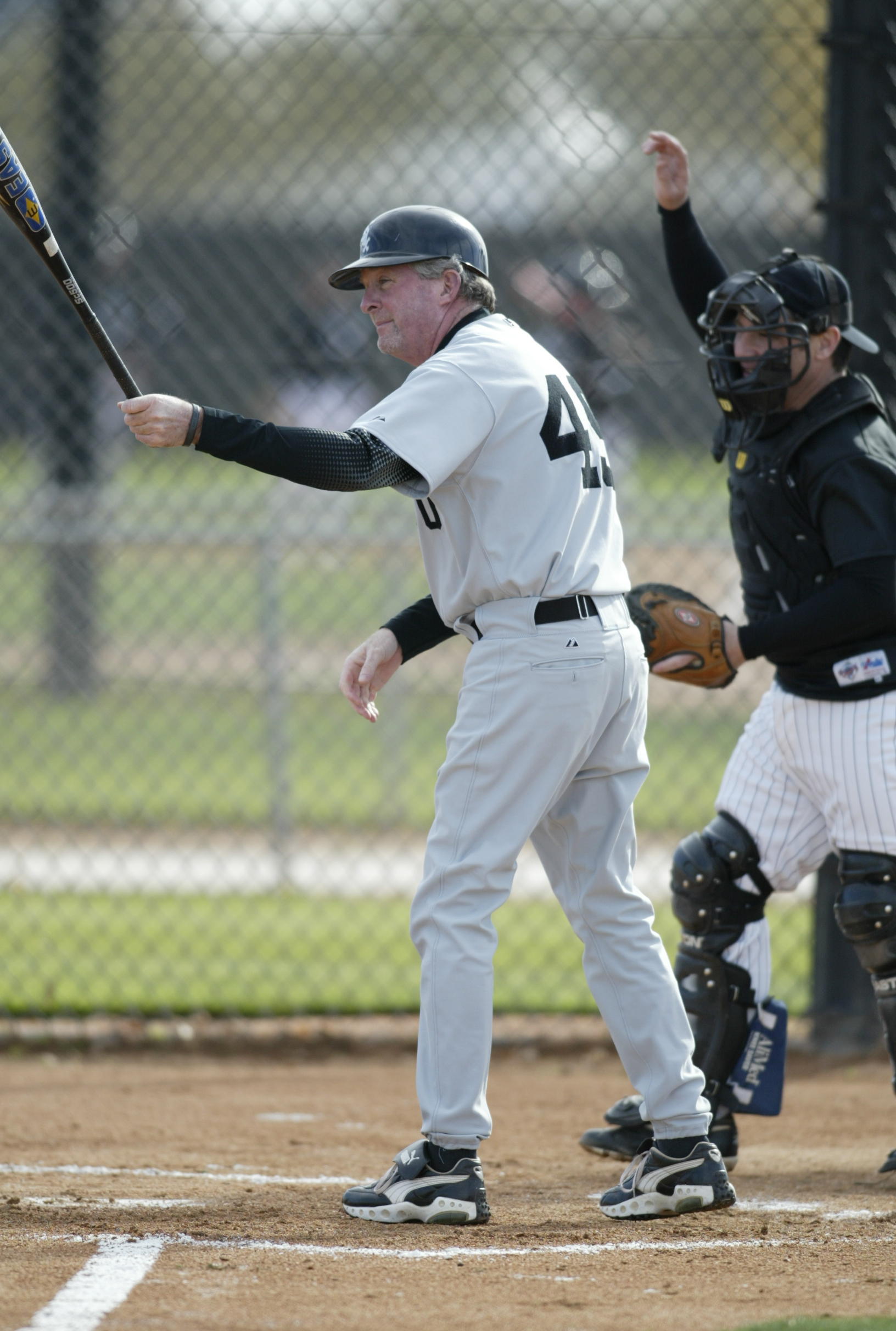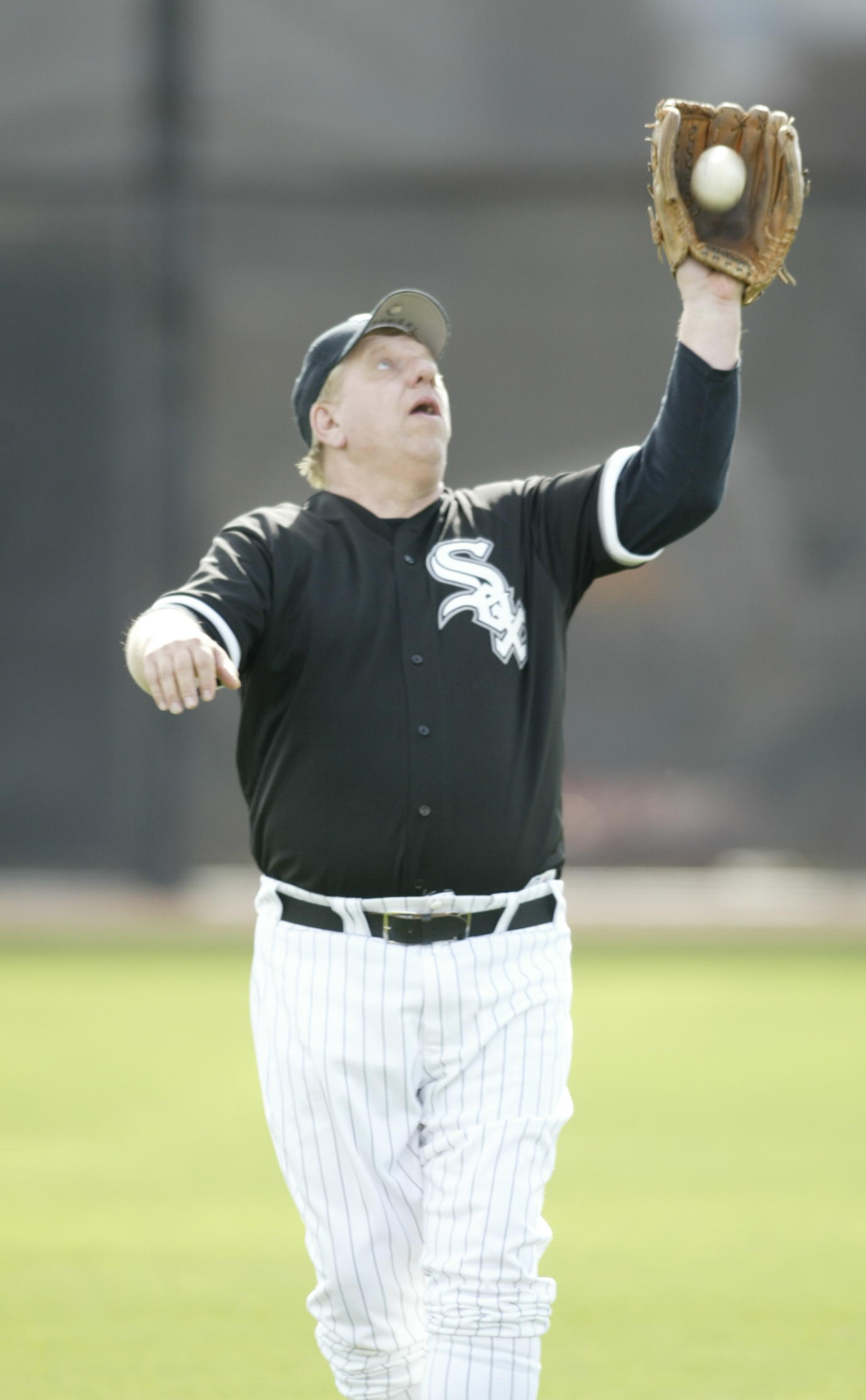 The catcher moves his fielders to give much earned respect to the powerful veteran, Mike McKay. Sophomore camper Jim Jakubowski doesn't have text book form, but he makes the catch during CFBC Camp 2008 action.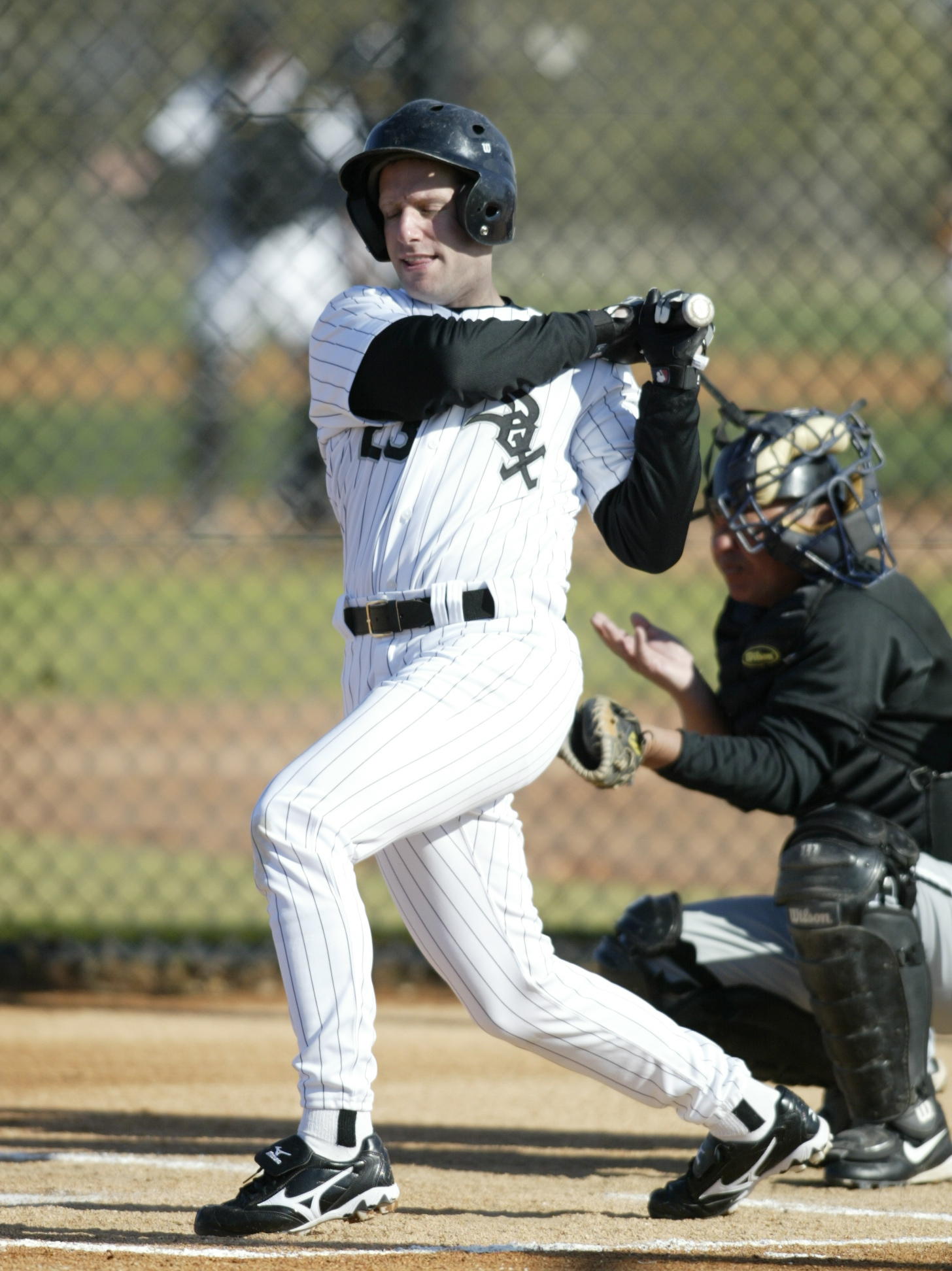 Veteran Anne Marie Venus shows off her muscle as she powers one to the gap, while rookie Andy Absler unleashes a mighty swing... with eyes wide shut!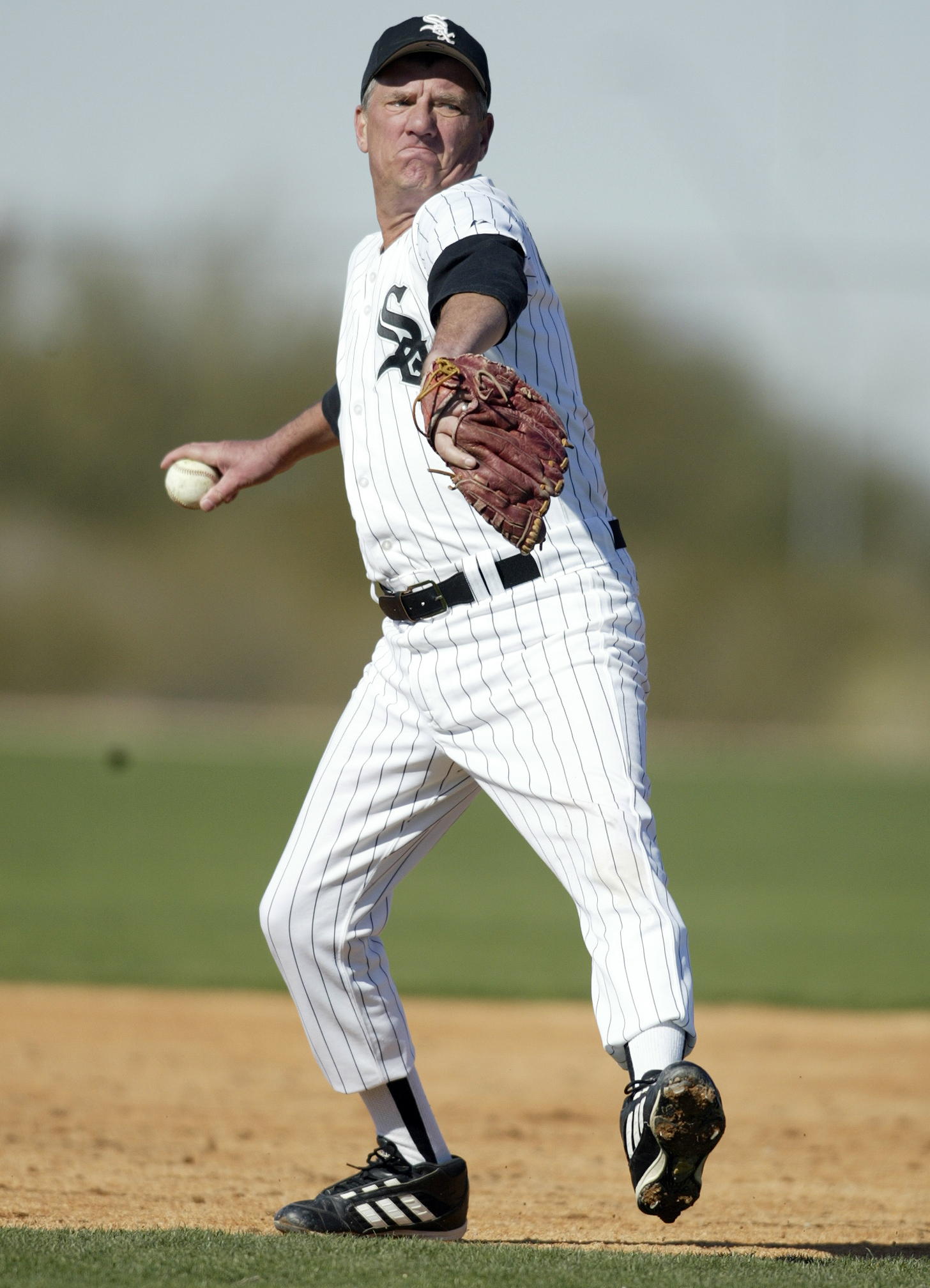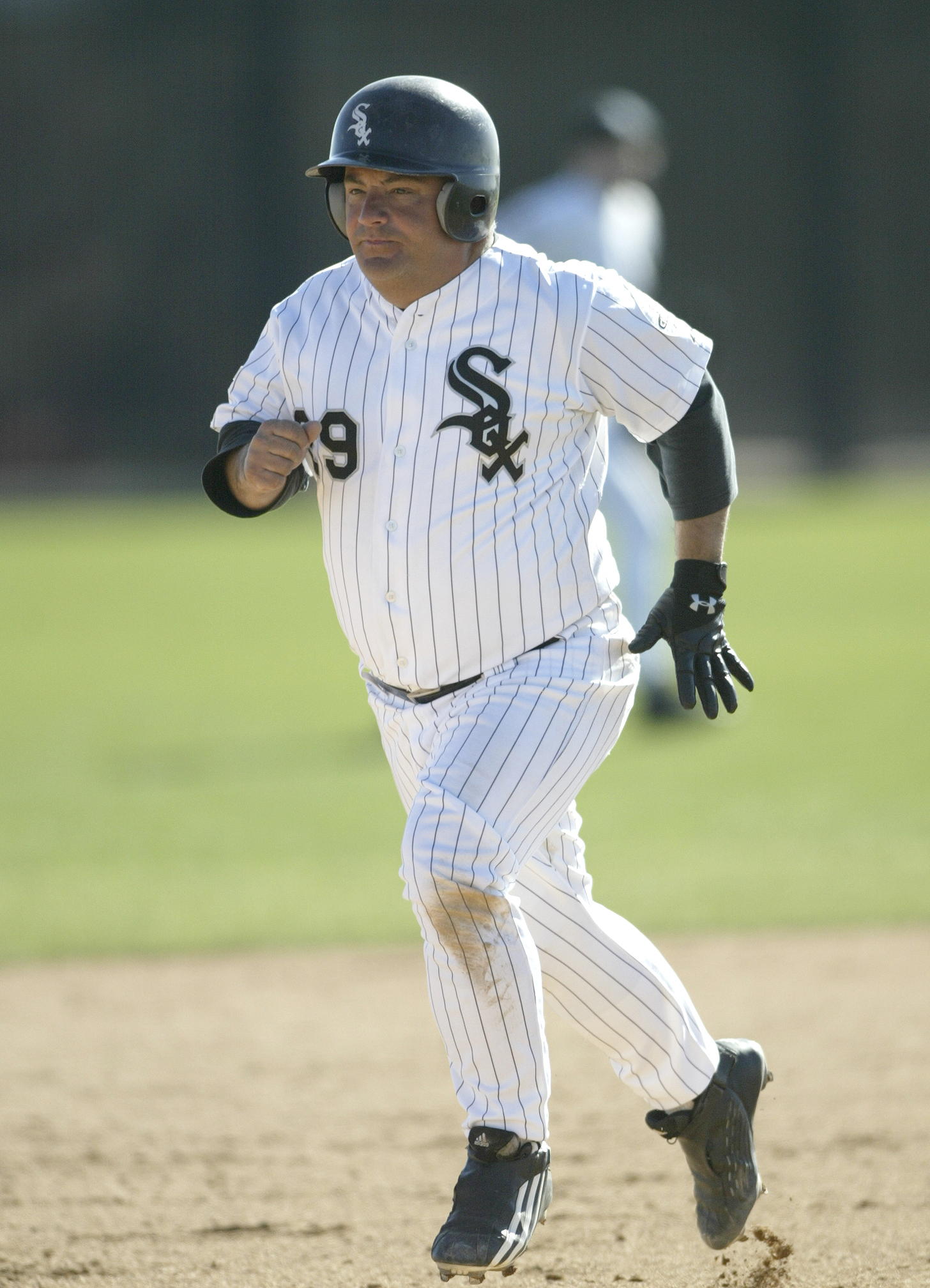 Veterans Dennis Zielinski and Mike Brindza show excellent fundamentals while playing defense and while "speeding" around the bases.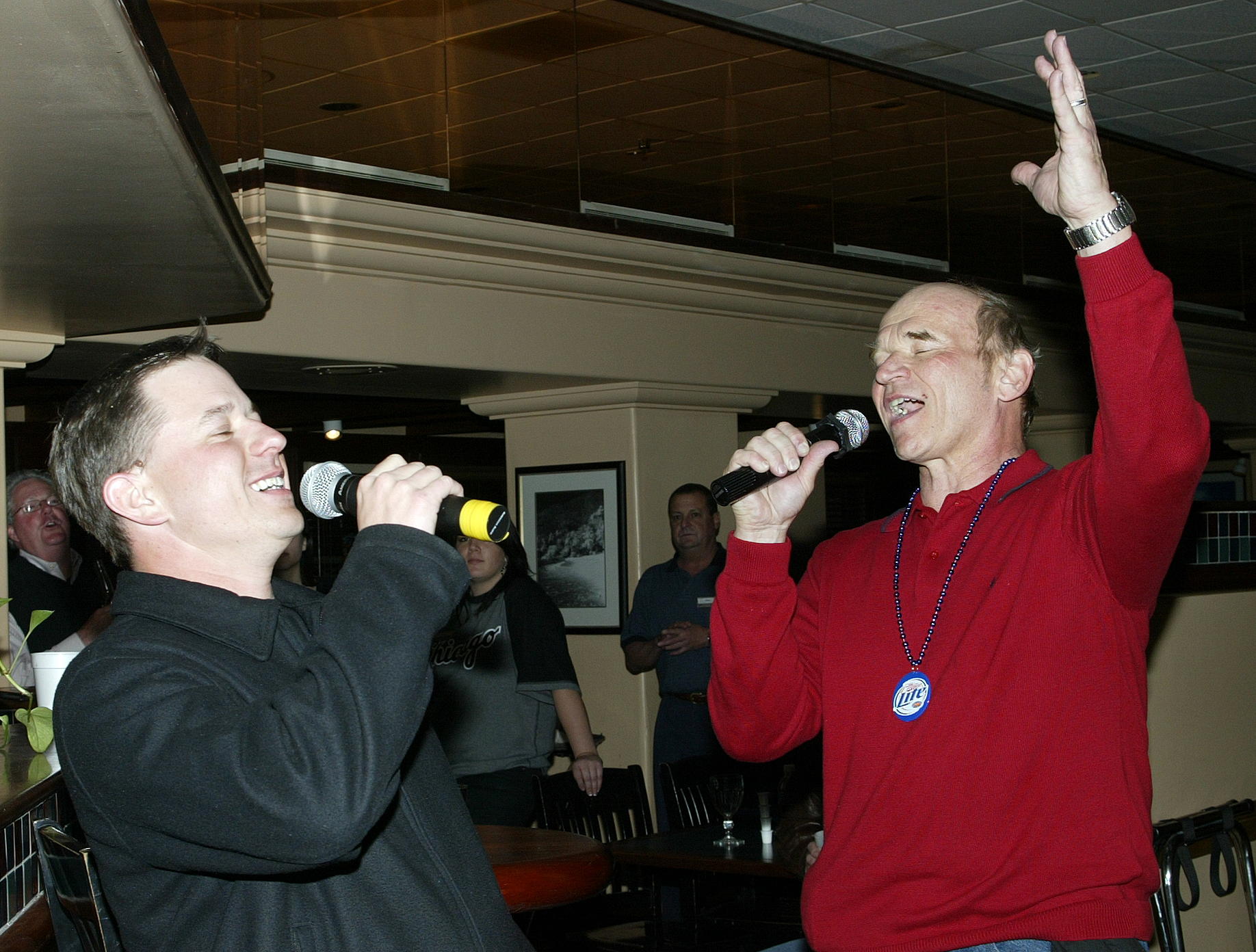 The "Un-Righteous Brothers" performed this year at the annual CFBC karaoke night. Bryan and Al Gildemeister belt out their rendition of "My Ding-a-Ling."
During the "Big Game" where the Campers play the Pros, veteran slugger Don Hoffman gives some needed pointers to White Sox great, Harold Baines.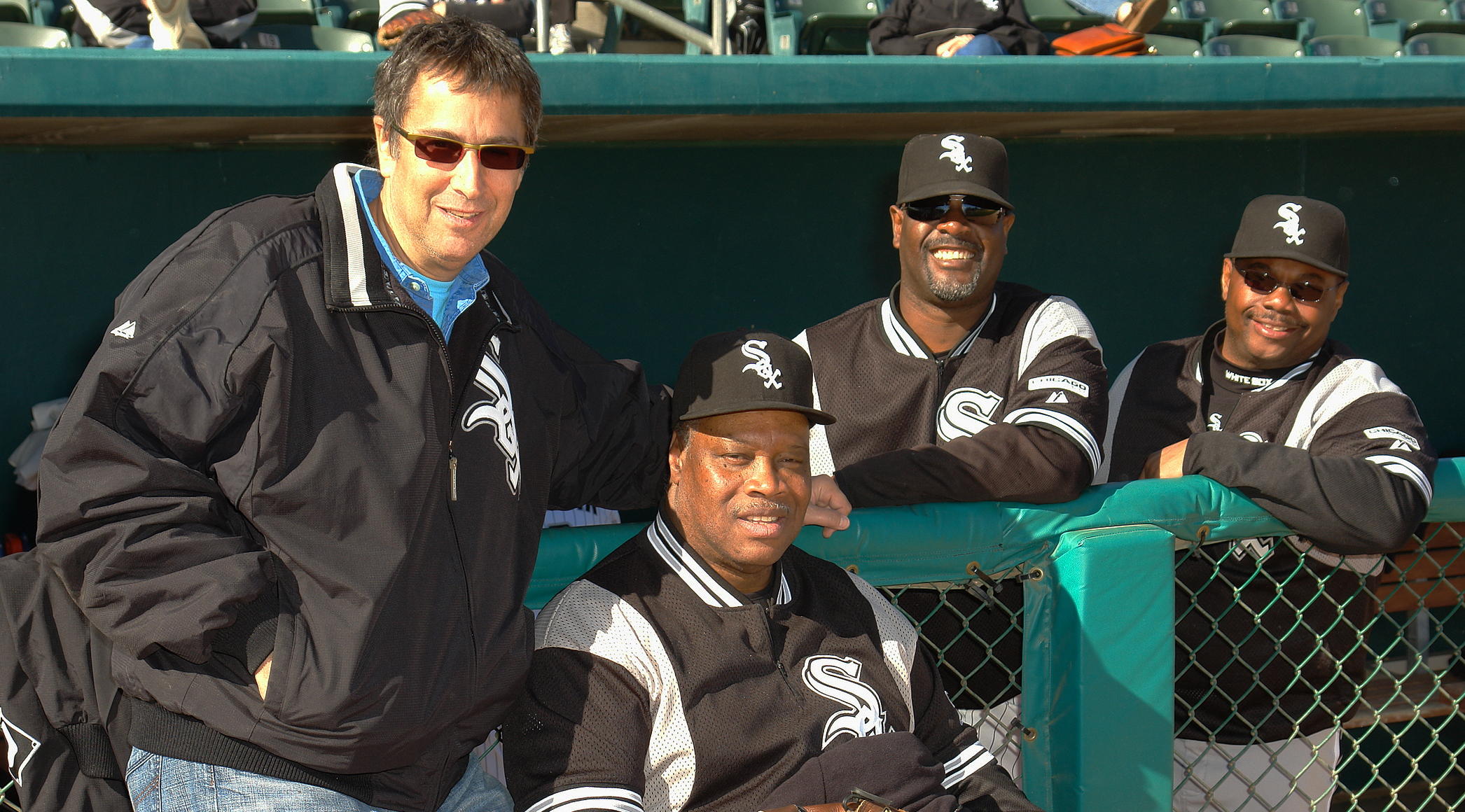 Veteran Nightcrawler outfielder, turned infielder, Al "Blues" Miller, discusses music between innings of the "Big Game" with Carlos May, Darryl Boston and Razor Shines.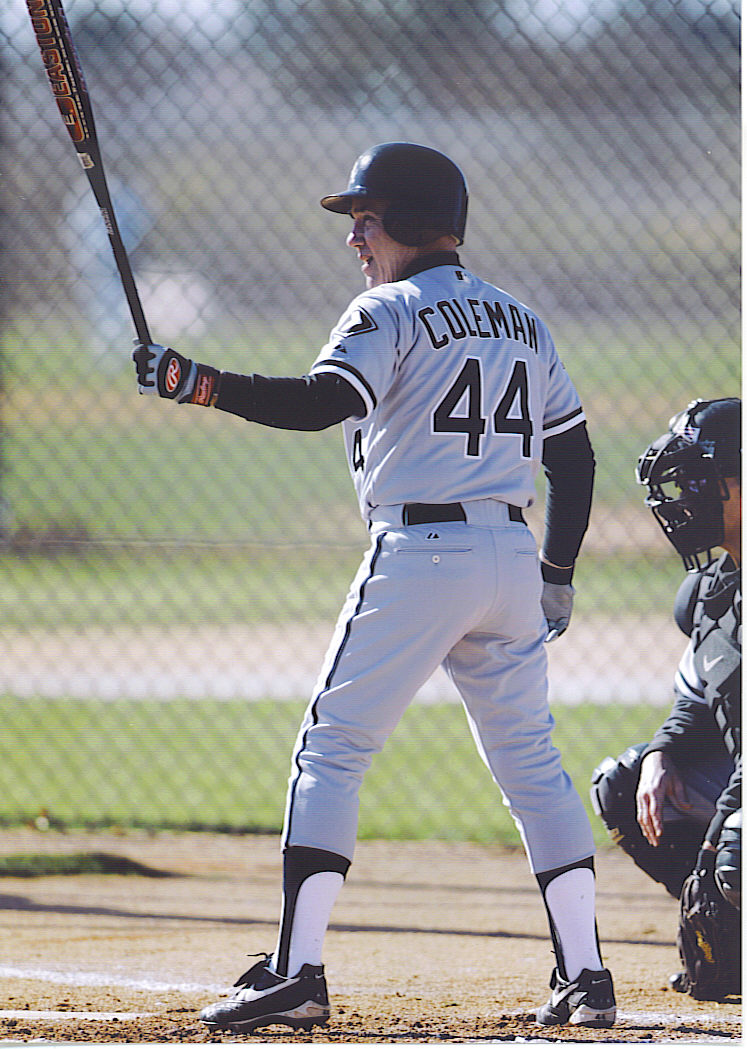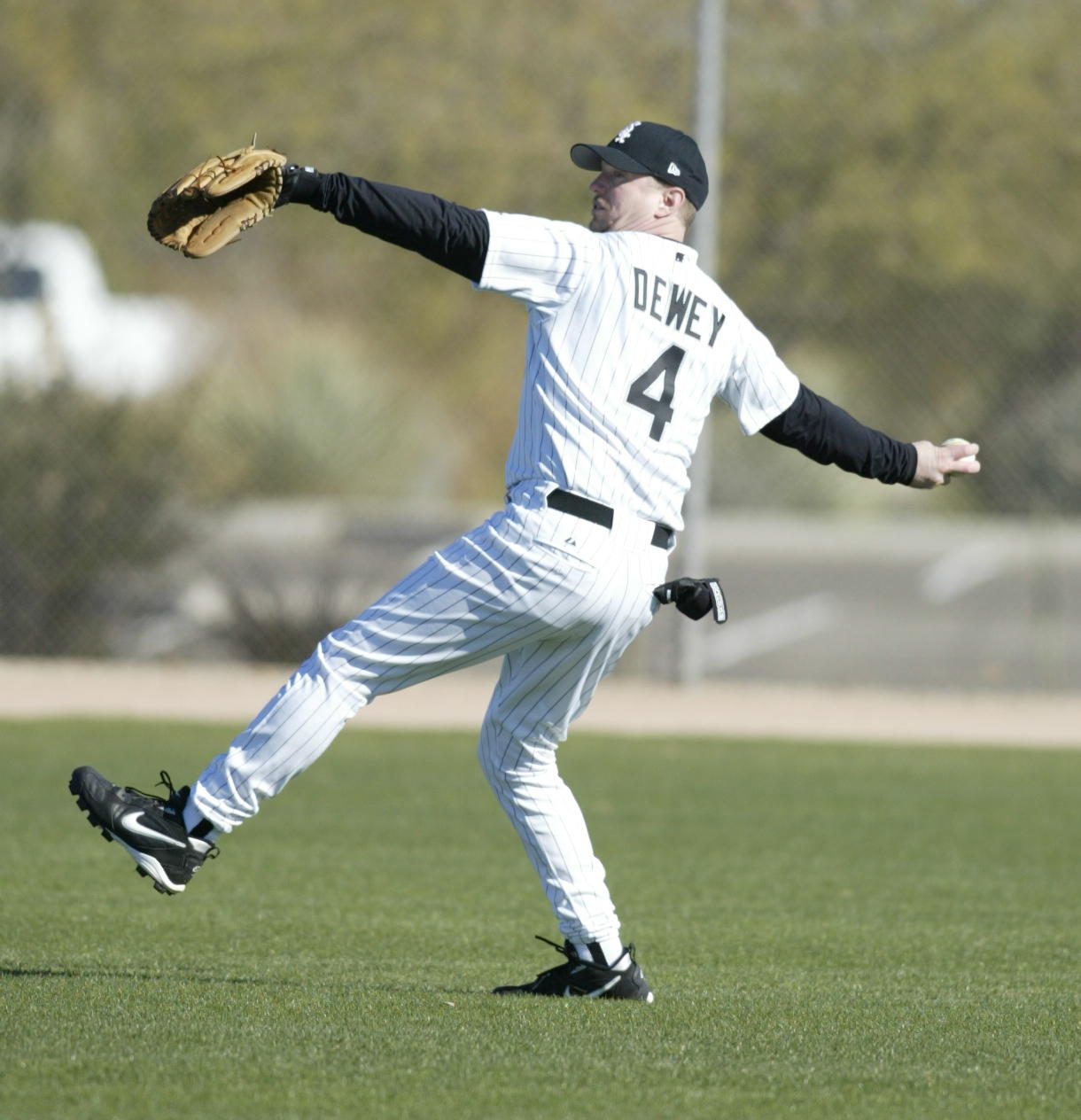 Veteran Nightcrawler Center Fielder Mark Coleman steps in to face former White Sox great Donn Pall. Camp 2008 Rookie of the Year, Doug Dewey, winds up to make the long throw from the outfield to home plate.
At the 2008 CFBC Closing Banquet...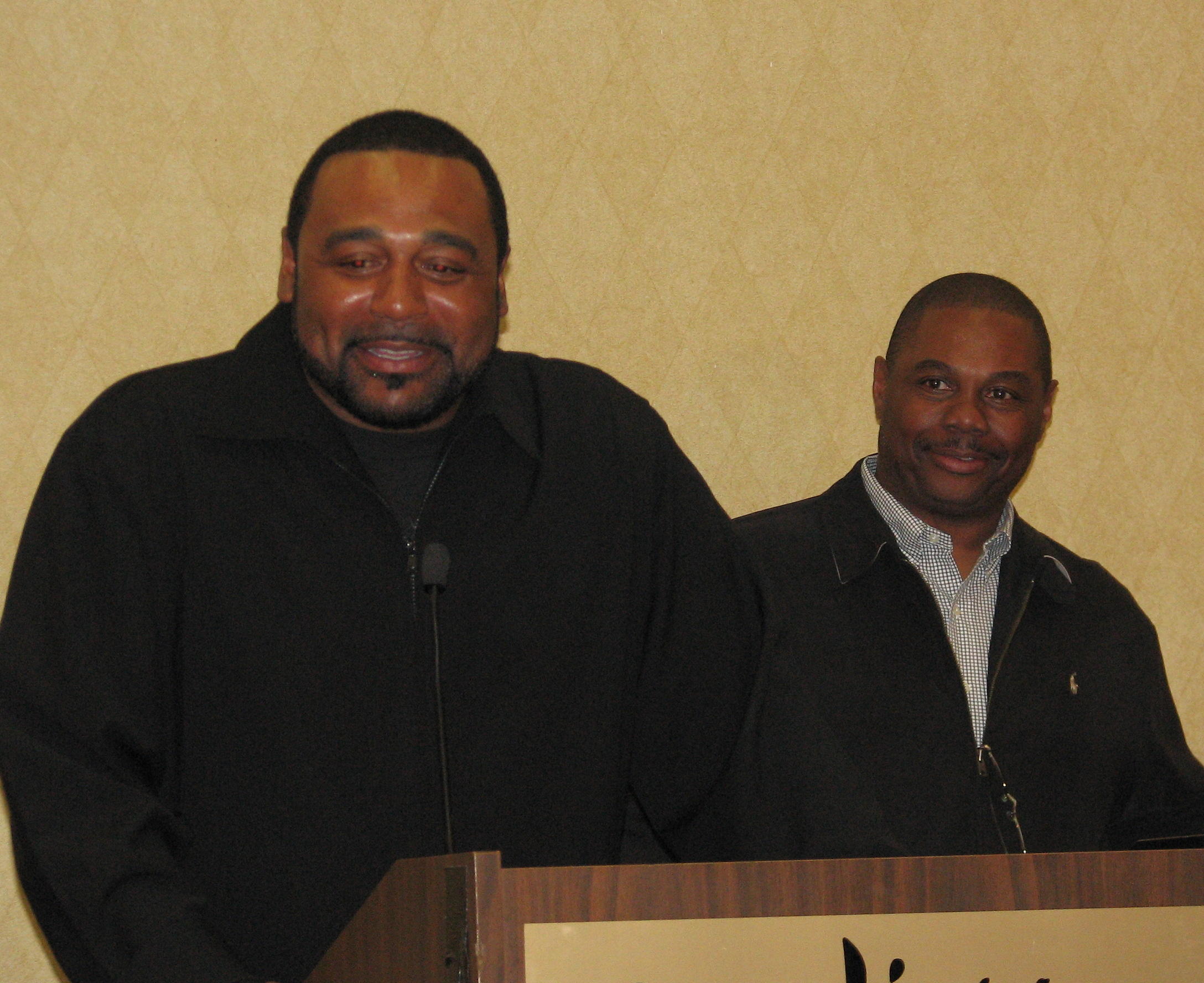 Tom Paciorek explains to Bill Melton the order of the program and James Baldwin explains how he and Razor Shines were hired to co-manage "Affirmative Action."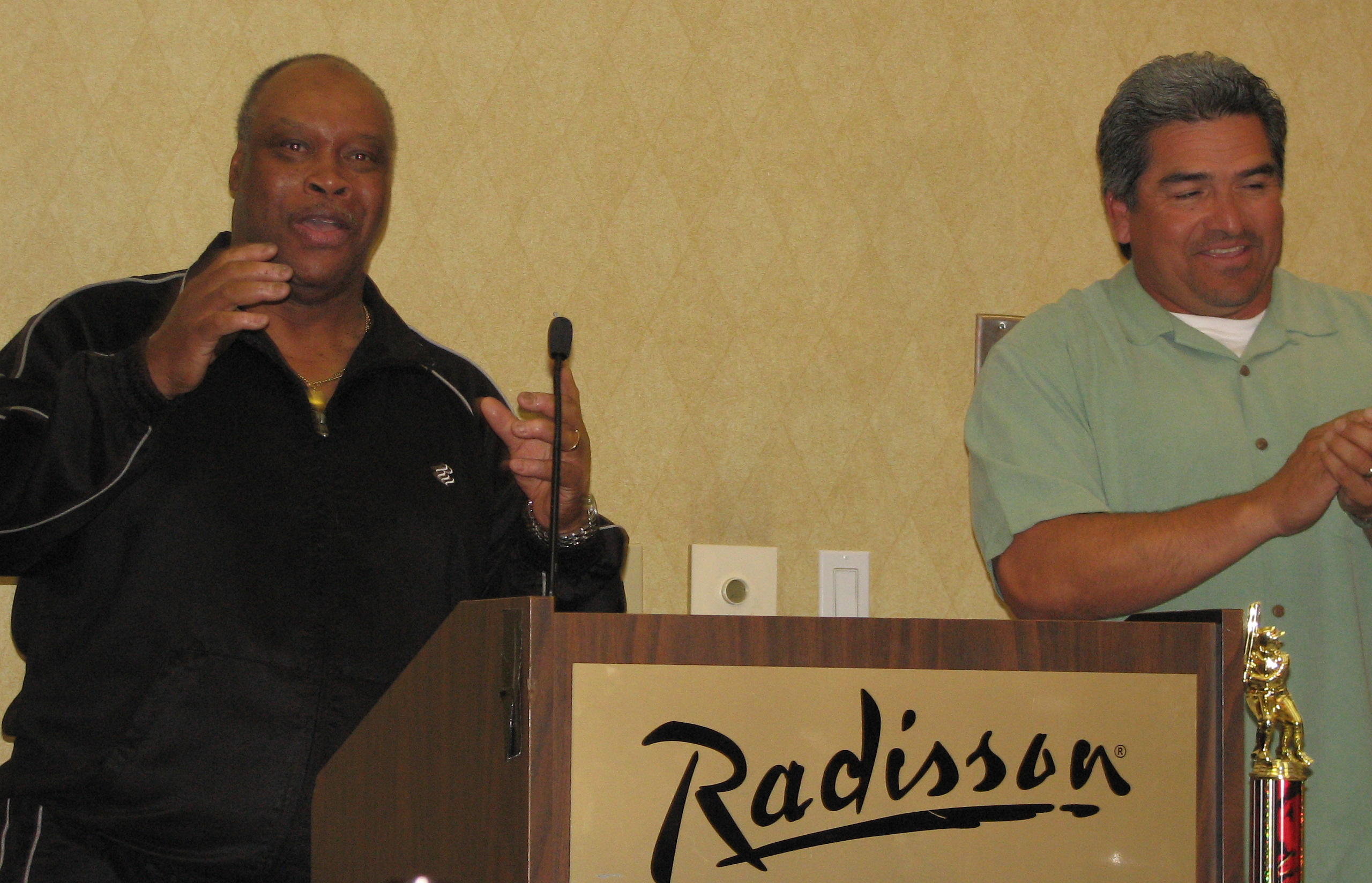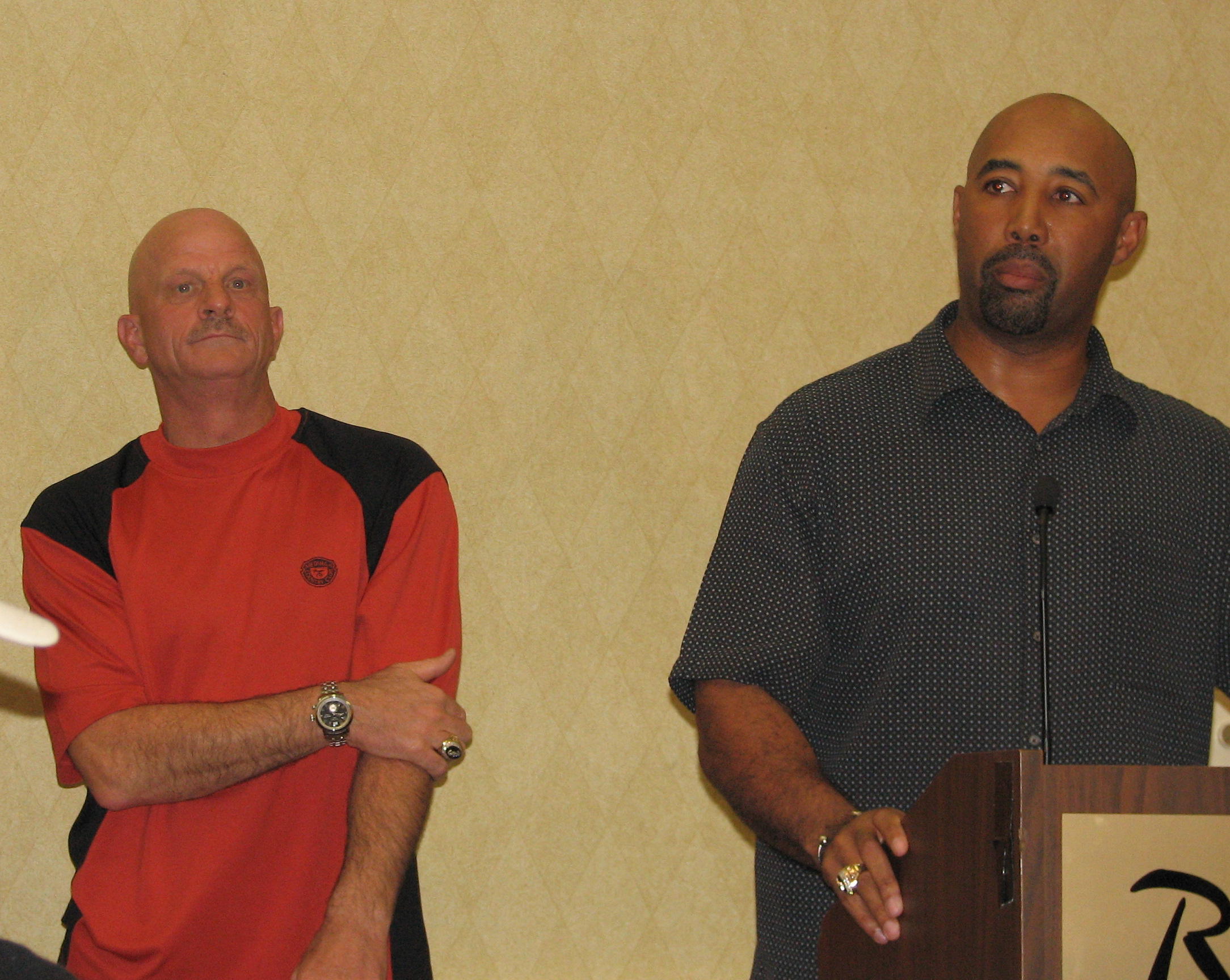 Carlos May and Mark Salas tell the crowd how "Won One" nearly didn't even win one. Harold Baines and Kevin Hickey ponder if it's even worth picking a team name, or to just let it slide until next year.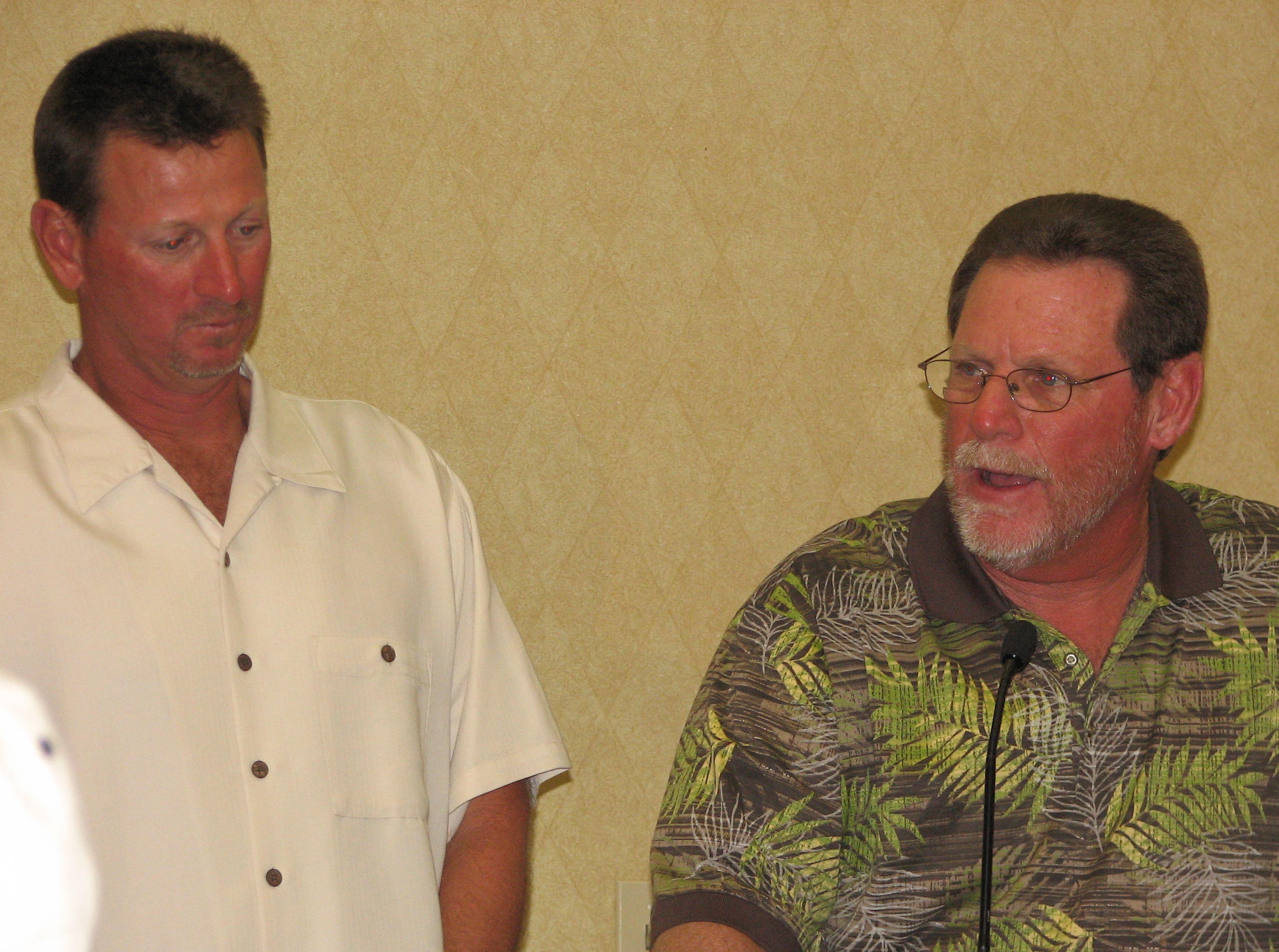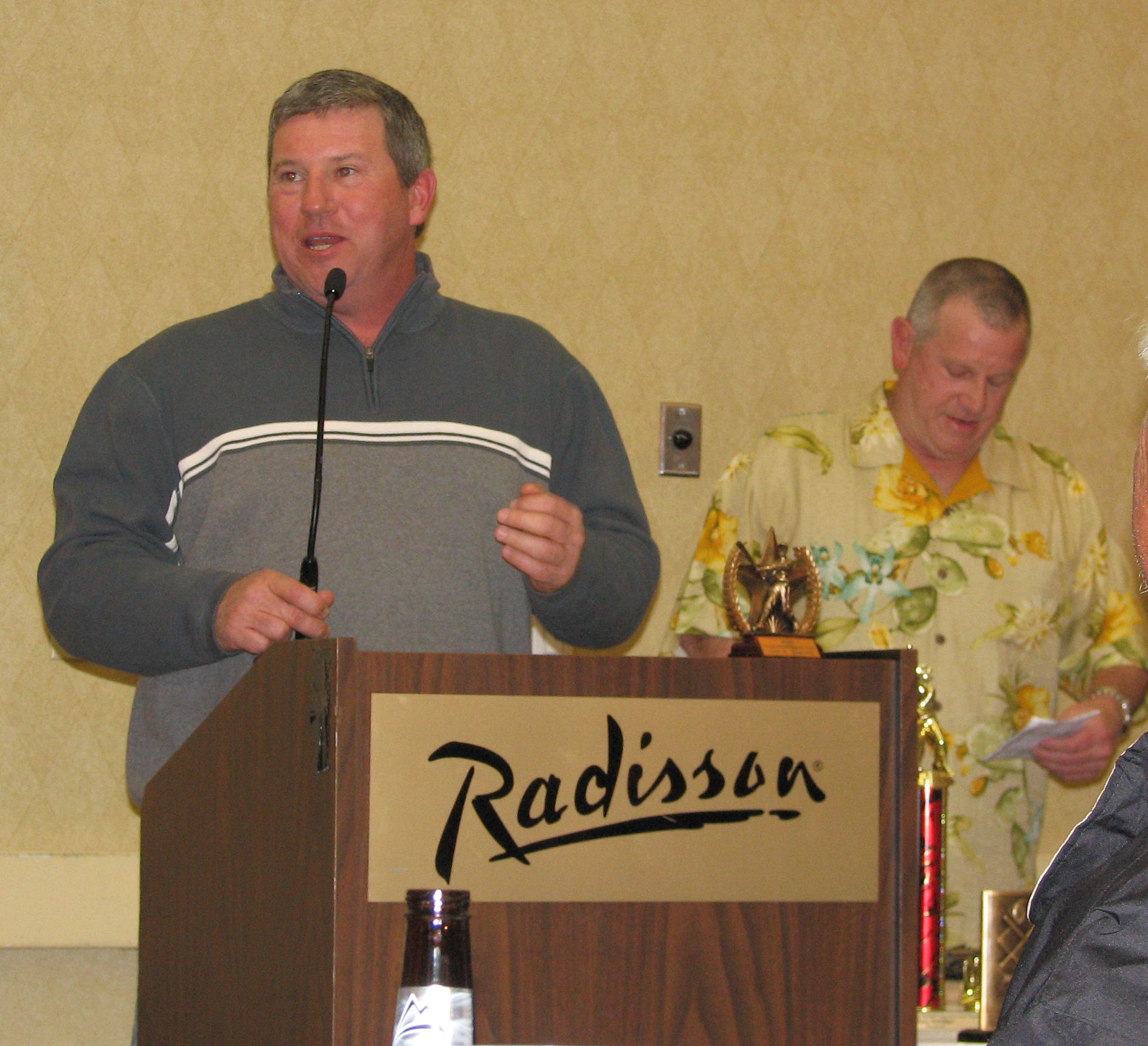 Bobby Thigpen and Ed Herrmann look for a reason, any reason, to talk about how "good" their team was during the week, while Richard Dotson (with co-manager Jeff Cox in the background) takes the opportunity to be able to talk to his team for the first time all week! (You had to be there... we love you, Jeff!)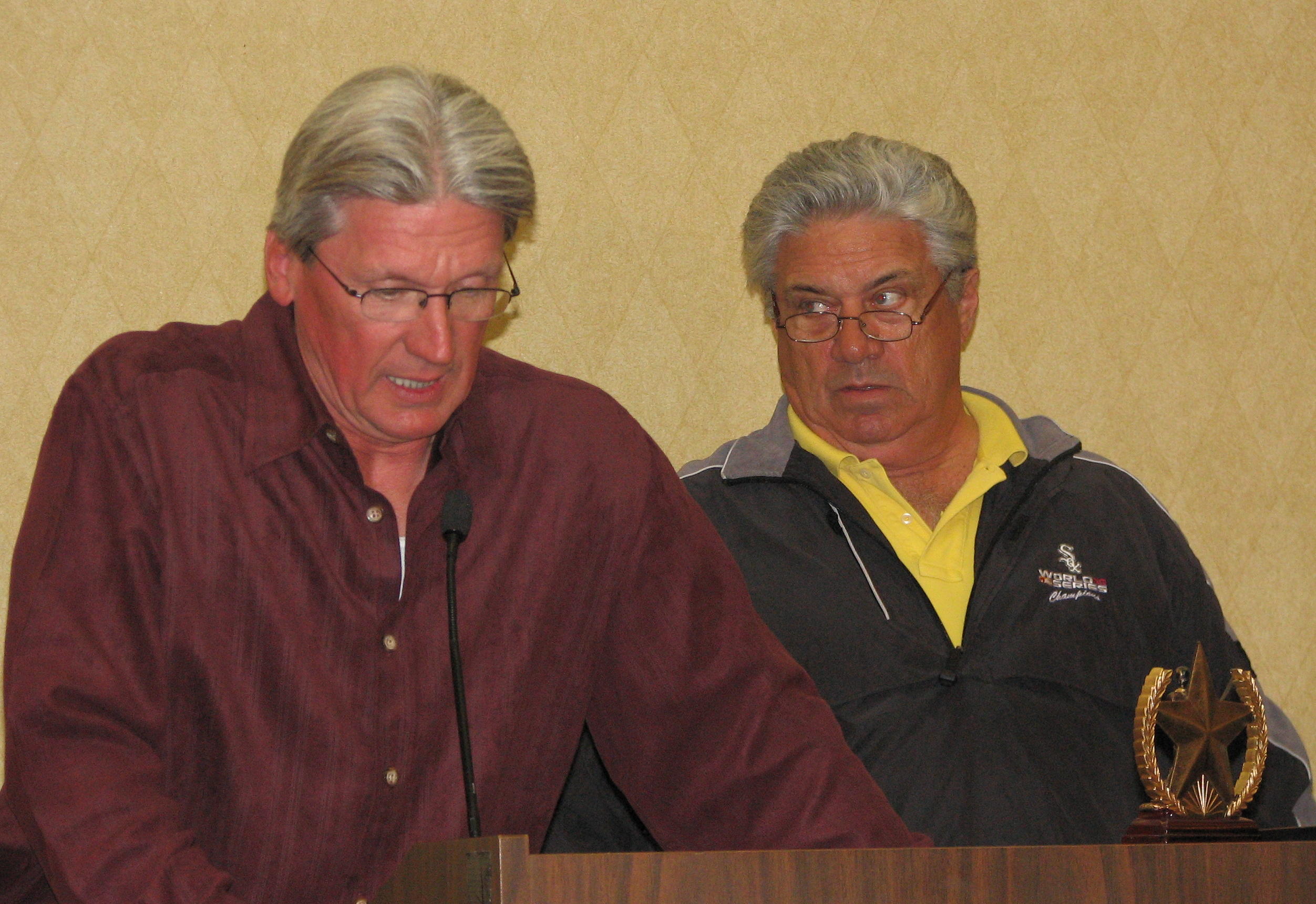 And finally, Ken Kravec sings the praises of his second place team, while Jim Fregosi looks at him in disbelief, wondering just what team Ken saw play during the week.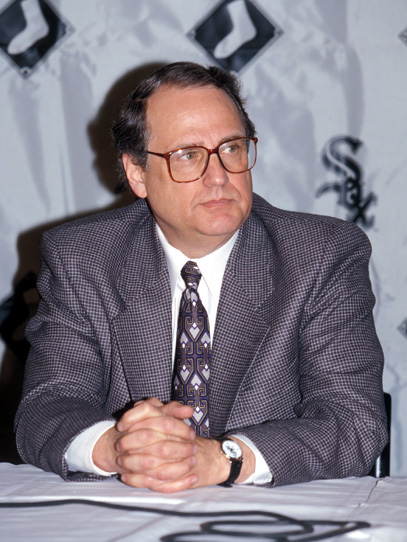 On Thursday night, White Sox Chairman Jerry Reinsdorf made his annual appearance (he brought partner Eddie Einhorn along with him this year) to talk about the 2007 White Sox and what 2008 has in store for the team.
CONTINUE TO WATCH FOR MORE NEW HIGHLIGHTS FROM CAMP 2008 AND NEW BASEBALL CARDS OF YOUR FAVORITE CFBC PLAYERS AS THEY BECOME AVAILABLE THROUGHOUT THE YEAR!
If you have any questions about CFBC, or want additional information, drop us a note at:
CHICAGO FANTASY BASEBALL CAMPS, INC.
Since March 15, 2001,
CFBC fans have visited this page.
© 2017 Chicago Fantasy Baseball Camps, Inc.
CFBC Home Plate Camp 2009 CFBC Coaches
CFBC 2009 Highlights CFBC Scrapbook What's Included?
Accommodations Registration Form CFBC Baseball Cards