CHICAGO FANTASY BASEBALL CAMP HIGHLIGHT SCRAPBOOK FROM PAST CAMPS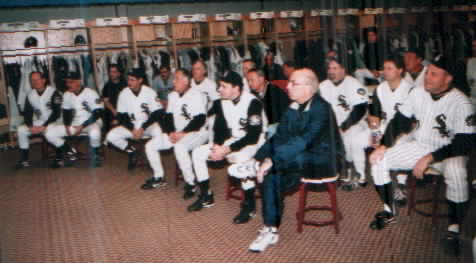 Each day of every camp starts off with morning meetings in the clubhouse, the Kangaroo Court, and a detailed itinerary of where and when lunch would be served. Here are CFBC coaches Mark Salas, Bobby Thigpen, Carlos May, Ed Herrmann, and Tom Paciorek reviewing some of the prior days "highlights" while the other seven CFBC coaches hide their heads in shame. Eagerly anticipating the words, "PLAY BALL," some of the excited and "happy campers" wait for their chance to strap it on and make their attempt to "Put it on the Board!" The "fines" collected during the week benefit White Sox Childrens Charities.

Ready for CAMP 2001 to begin, veteran Larry Swanger and his battery mate, current White Sox relief pitcher, and "Rookie" Coach, Lorenzo Barcelo head to the bullpen to begin loosening up.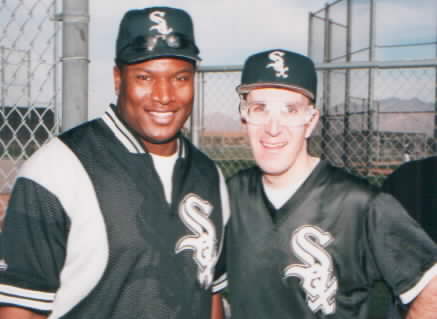 1993 White Sox playoff hero and miracle athlete, Bo Jackson, confers with 1997 Chicago Fantasy Baseball Camp Rookie of the Year, Paul Zeledon, of Hoffman Estates, IL, on how Bo should approach his "rookie season" as a coach in the 2000 Cactus Fantasy League.
White Sox owner Jerry Reinsdorf showed up at Camp 2006 on Thursday night and after hearing the unhappy and disgruntled voices, opinions and concerns of most of the campers at past camps, delivered the best line of Camp 2006: "SO..... WHAT DO YOU HAVE TO BITCH ABOUT THIS YEAR?" Way to go, Jerry... and THANK YOU for the 2005 World Championship!!!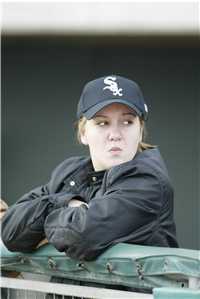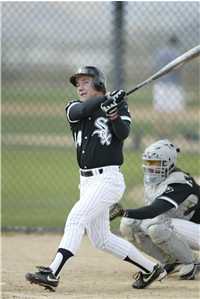 While waiting for her chance to become a CFBC rookie, then 12 year old fast pitch softball catcher, Stephanie Coleman, looks from the dugout to the bullpen during the Camp 2004 Big Game to see if anyone is ready to relieve the questionable pitching the "Pros" had to face. Earlier in the week, her dad, Mark, blasts a 3 run home run over the left field wall during a six run last inning rally to bring the Nightcrawlers within one run of the South Side Sl*ts. The 2004 Nightcrawlers Team MVP's homer made it close, but the 'Crawlers fell short by one run... again!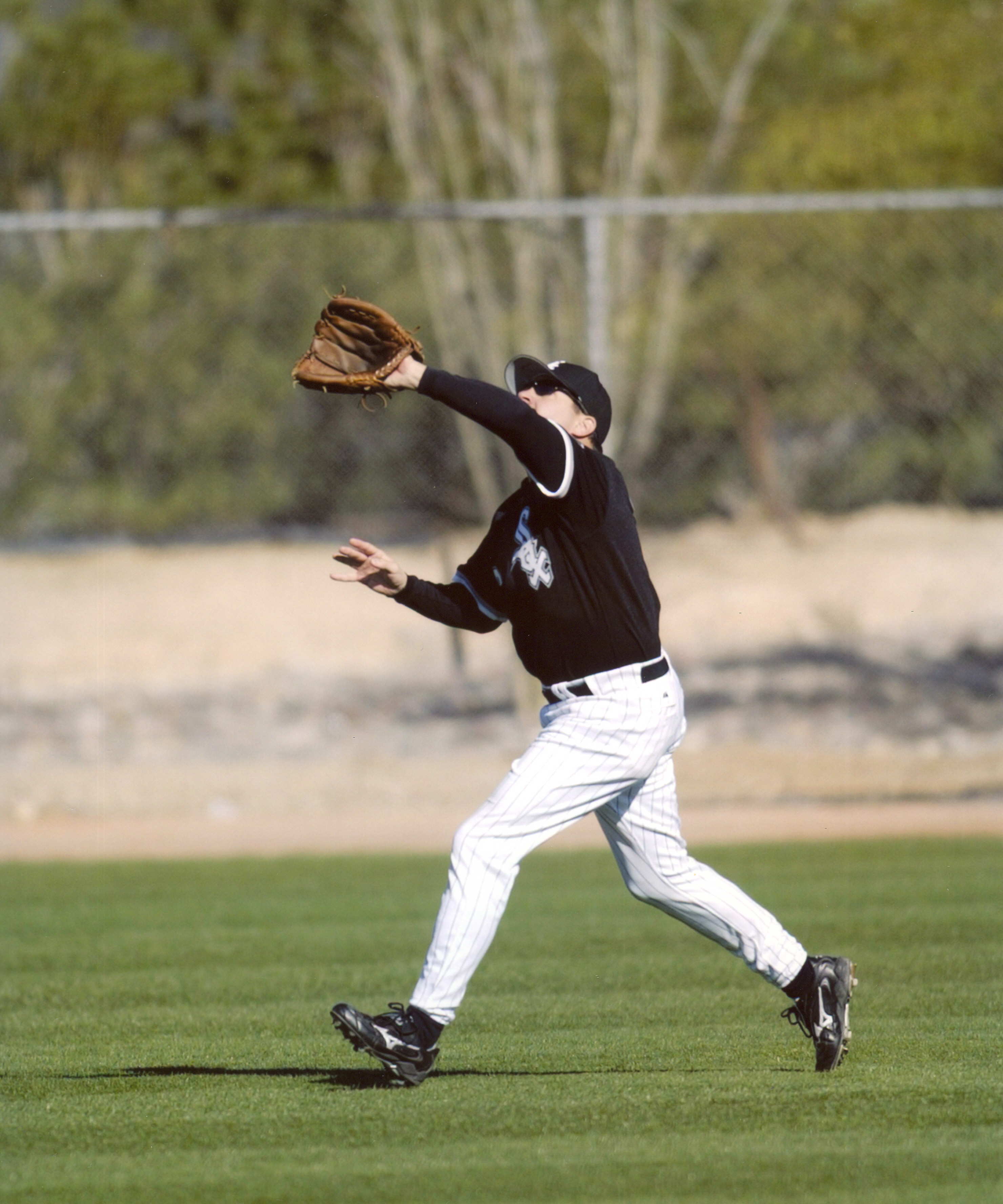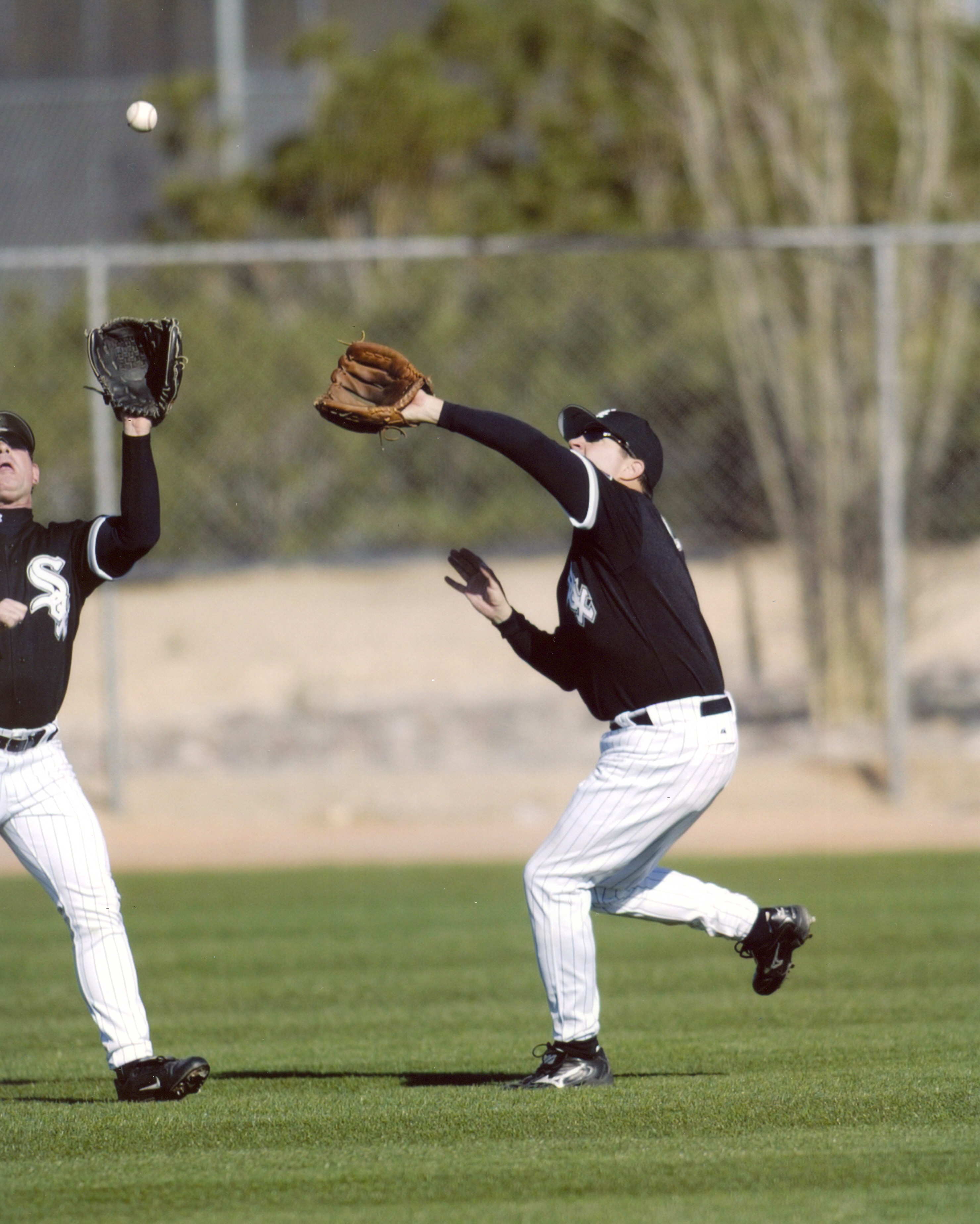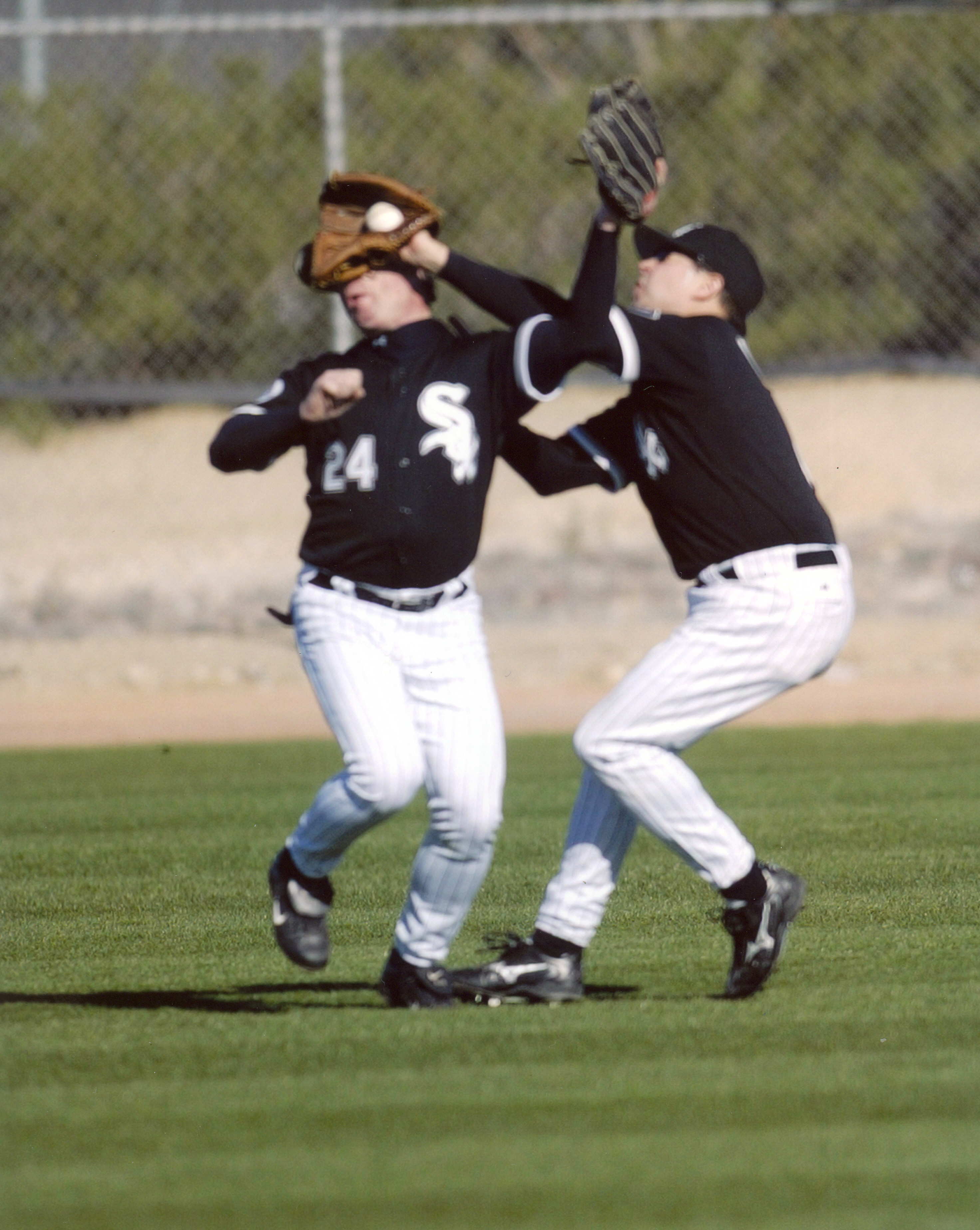 From Camp 2006, this is the rule on how NOT to "activate your dental plan." Mark Chyna has a fly ball lined up in his sights... he keeps going, focused, and not even sensing Rookie Don Popravak heading his way... you guessed it... BAM!!! The veteran catches the ball and the rookie...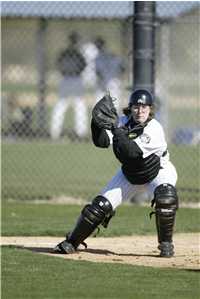 Catcher Becka Shipp takes the throw and gets ready to make the play at the plate during Camp 2004.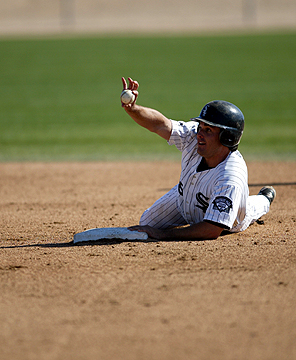 From Camp 2005: SAFE! No, wait... I tagged myself. OUT!
No, SAFE! No, OUT!!!! What am I? Who am I????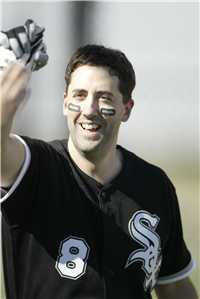 Tom Earle is all smiles after going yard during a CFBC game.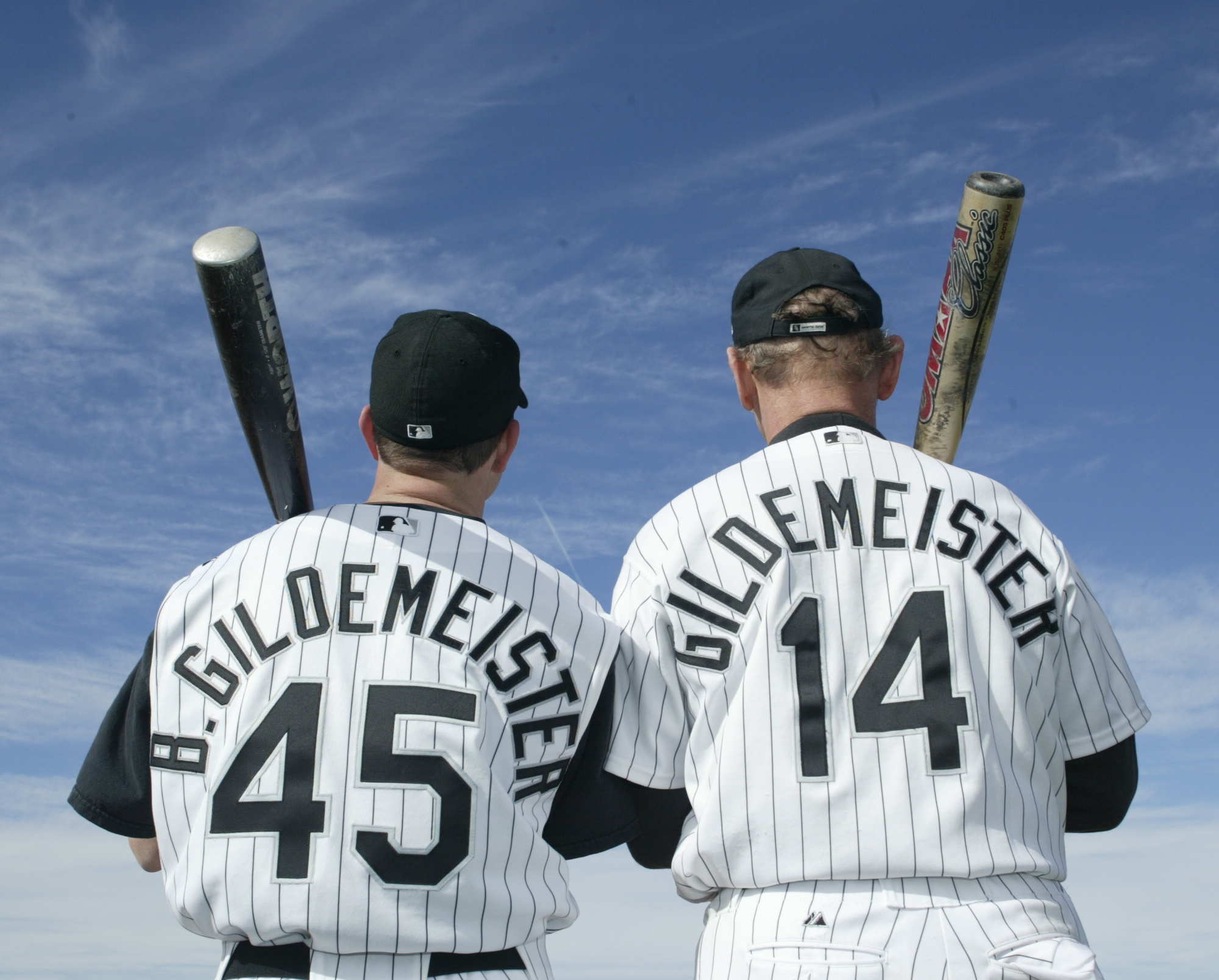 Fathers and sons were plentiful at CFBC Camp 2006. Here, Rookie Bryan Gildemeister and his veteran dad, Al, think of memories gone by and memories of the future as they share their first camp together.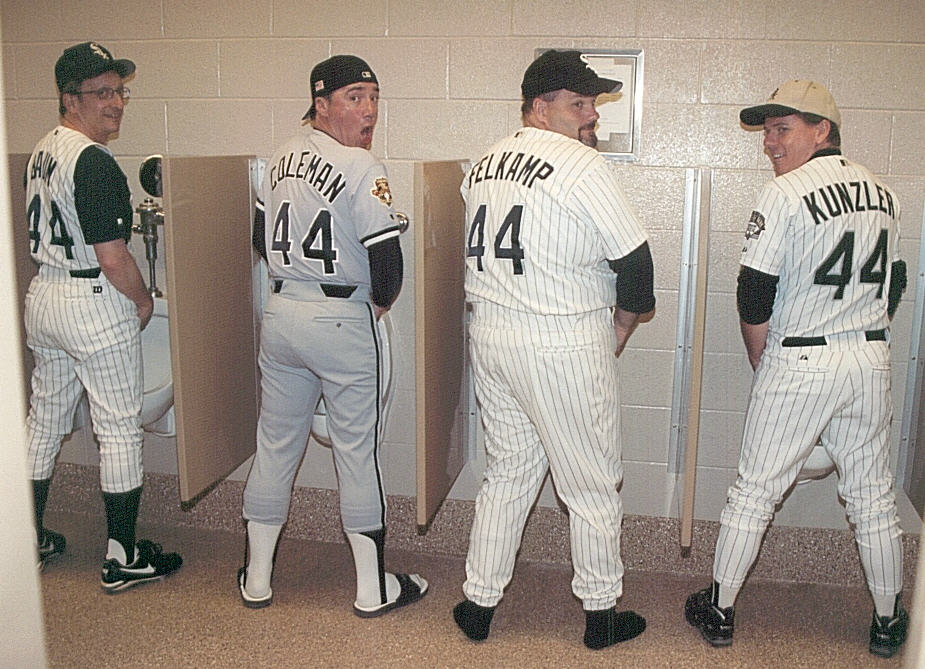 Willie McCovey, Hank Aaron, Reggie Jackson, and Chet Lemon complete their final preparation prior to the beginning of another CFBC game.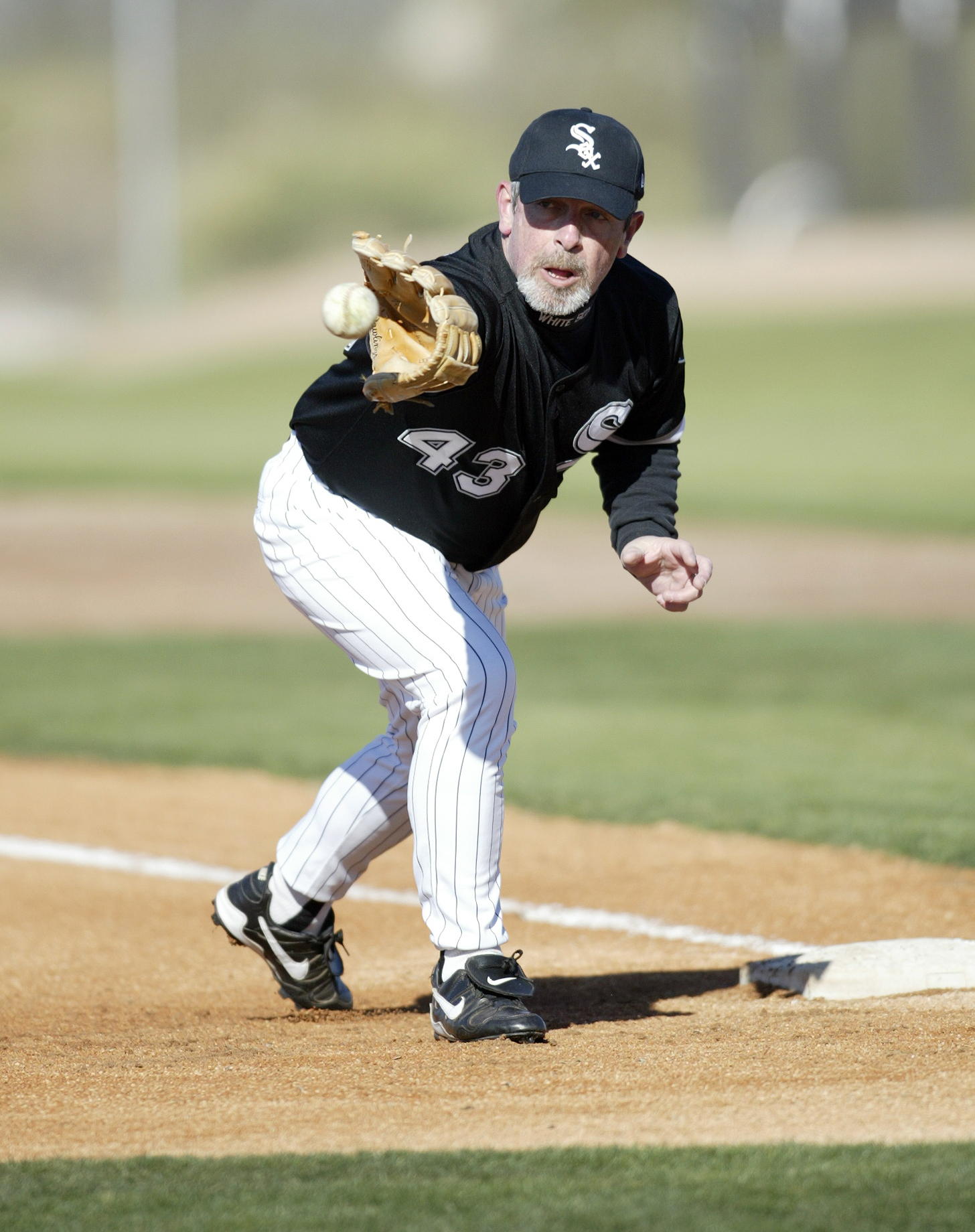 During Camp 2008, veteran Kevin Deady makes a great stab while hustling to the bag.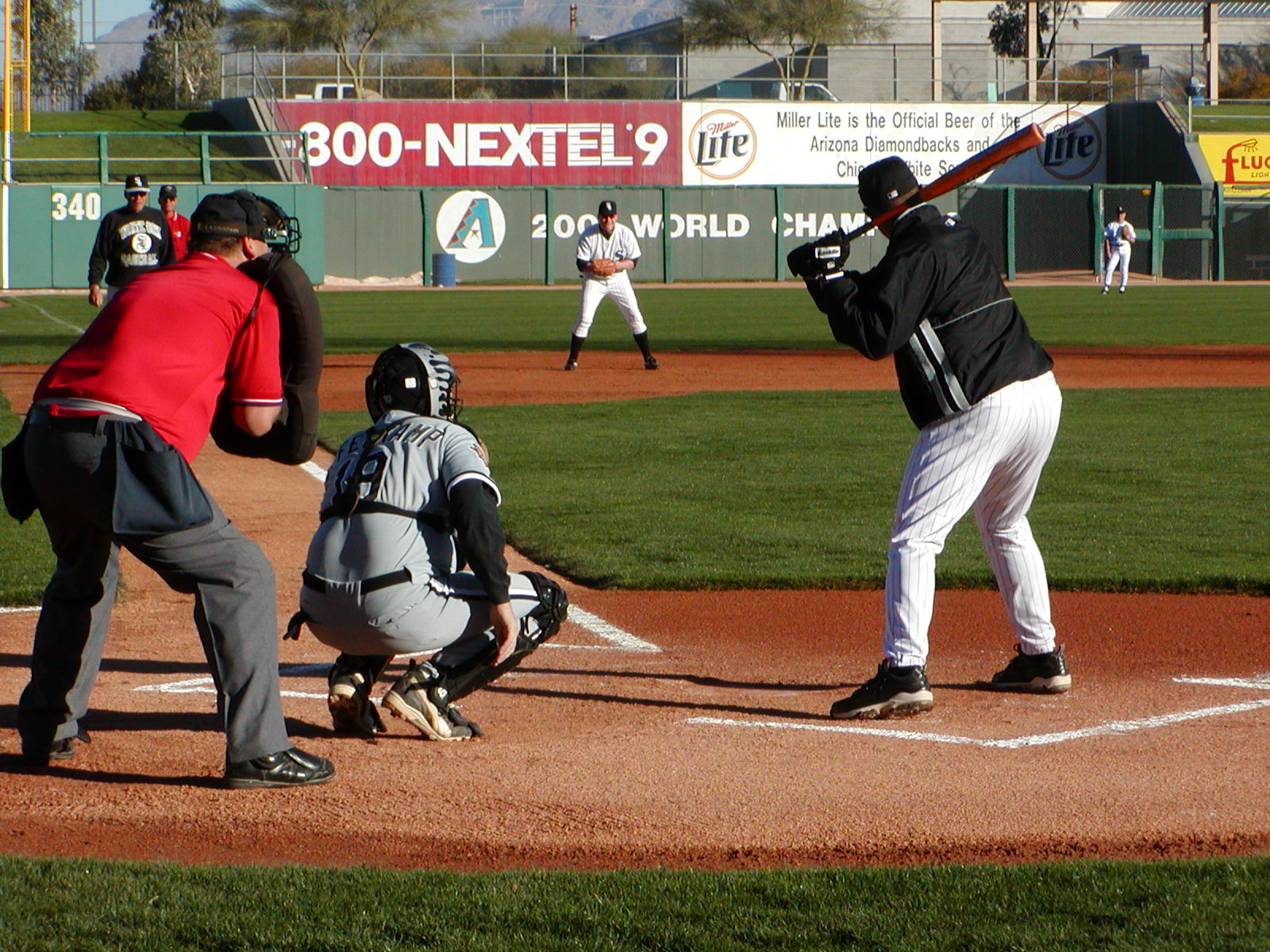 During the "Big Game" where the Campers faced the Pros, Rookie CFBC Coach, Harold Baines, shows off the batting form that kept him in the Major Leagues (and on track to Cooperstown) for 20 years.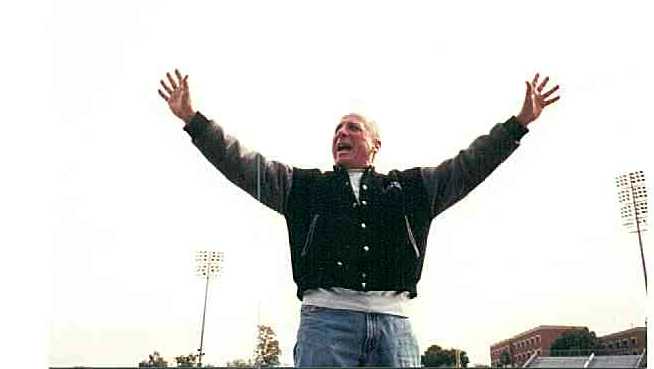 Long time Austin's Ice Cream Parlor regular and Nightcrawler™ infielder, Bernie "Froggy" Kerman stands proud while acknowledging the cheers of the near capacity crowd of 24 at the "Big Game," on Saturday, January 19, 2002, during the "Salute to Bernie Kerman Moment."
T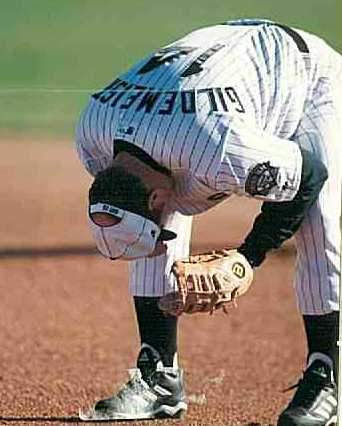 At Camp 2002, Rookie Alan Gildemeister of Schaumburg, IL discovers that fielding ground balls is not as easy as Major Leaguers make it look as he wonders "which way did it go?"
Veteran first baseman, Jay Pinsky of Northbrook, IL powers a fastball off of 1983 Cy Young Award Winner, Lamarr Hoyt as he helps lead the Nightcrawlers™ to another victory in Camp 2002 action .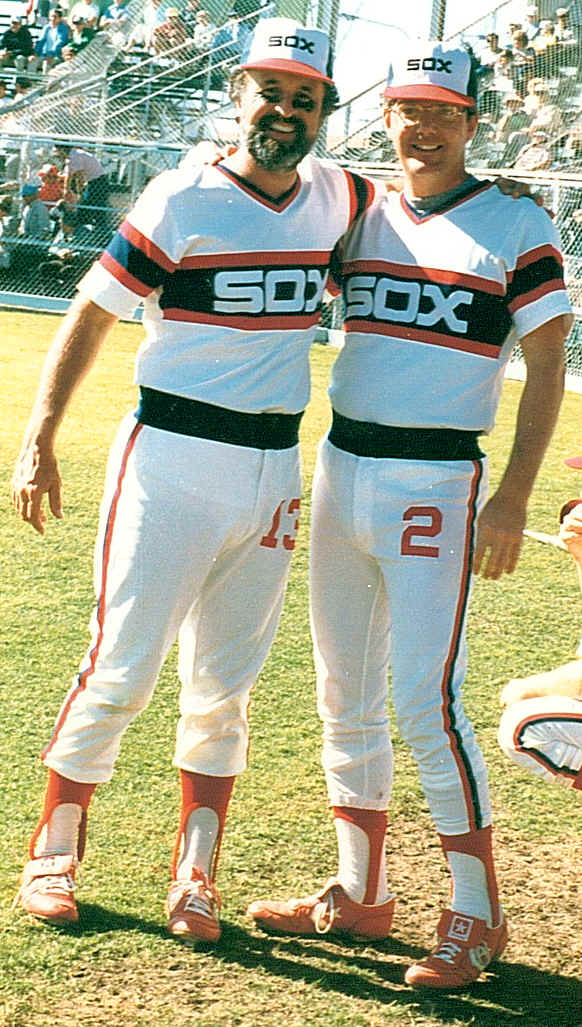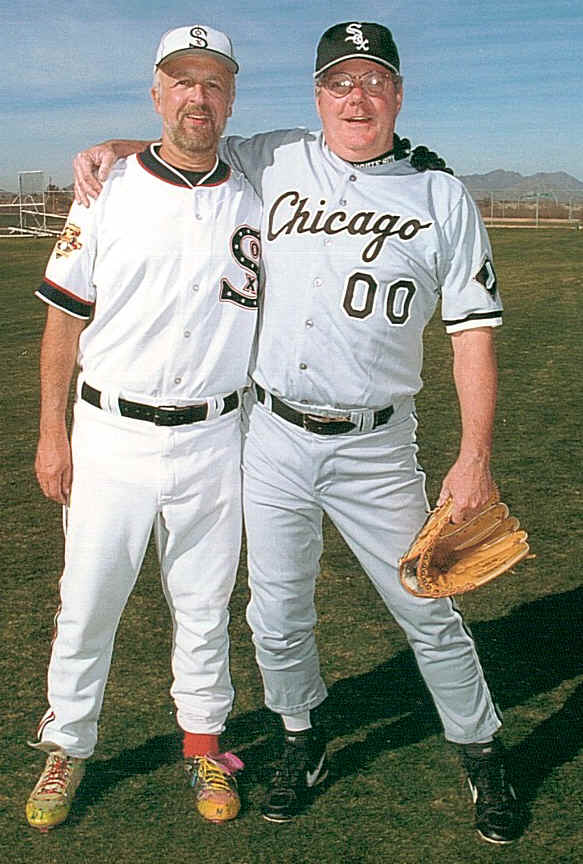 A blast from the past and a look at what the future holds. In 1986, Rookies Len Pernecky and Matt Carroll pose for the camera as they wrap up an incredible rookie camp. 17 years later, while trying to extend the twilights of their careers, Lenny and Matt pose once again during Camp 2003 proving that the game we love is a love that never ends, and little boys grow into big boys who play this game, either on the field, or in their hearts, forever.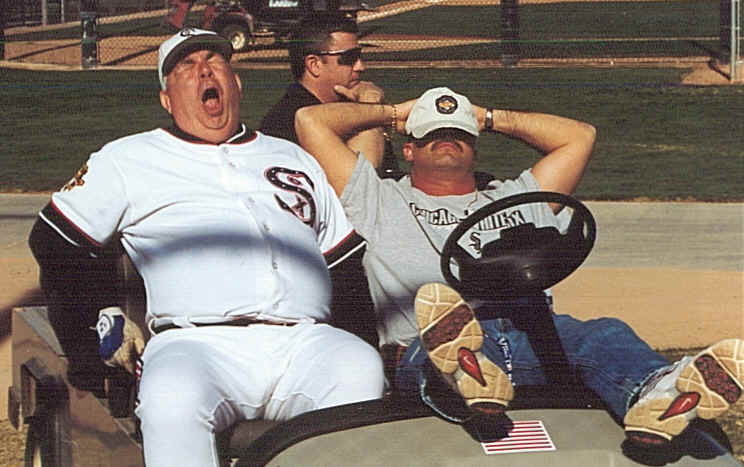 Veteran Nightcrawler™ Aaron Michaelson and and White Sox Clubhouse Manager, Gabe Morrell, can't contain their excitement over the incredible level of skill during games played at Chicago Fantasy Baseball Camps!
And as always... (this is too good to ever remove)...

"....the driver on the bus goes "beep, beep, beep"....."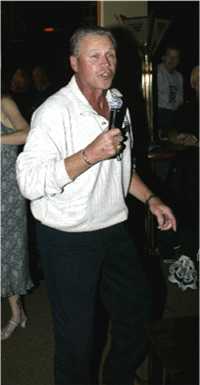 If you have any questions about CFBC, or want additional information, drop us a note at:
CHICAGO FANTASY BASEBALL CAMPS, INC.
© 2017 Chicago Fantasy Baseball Camps, Inc.
CFBC Home Plate Camp 2009 CFBC Coaches
CFBC 2009 Highlights CFBC Scrapbook What's Included?
Registration Form
CFBC Baseball Cards
CFBC News Updates 2005 World Champs
CFBC fans have visited this page.